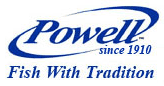 Company Information
In 1910, we began manufacturing fly rods that would give anglers a distinct advantage in performance and quality. Today, we continue that tradition with state-of-the-art technology and space-age materials. This allows us the freedom to design the best products at the best possible prices.
For nearly 100 years, we have been a leader in high-end fly rod design technology. We have accomplished this by working with a very select group of fishing and casting professionals. With our space-age materials and knowledgeable design team, we have developed some of the highest performance fishing rods on the market today. With that same commitment, we are introducing a complete line of tournament bass rods, called the Powell Max Series. Using our new "Maxumfiber" material technology, we have made it possible to have a lightweight ultra sensitive rod that has an extra-fast action with tremendous power unlike anything you have ever fished before.
Warranty
Every new Powell Bass rod is covered by our Limited to defect in workmanship and materials lifetime, original owner warranty. This warranty is limited to repair and replacement of the rod and does not cover direct, indirect, consequential, incidental or any other type of damage resulting from the use of the product. This warranty does not cover fire, theft, loss, intentional breakage, modification or customization of the finished rod. Some states do not allow the exclusion or limitation of incidental or consequential damages, so the above limitation or exclusion may not apply to you. This warranty gives you specific legal rights, and you may also have other rights that vary from state to state.
Powell reserves the right to determine whether to repair or replace any Powell Product covered by this warranty and the right to replace any discontinued models with comparable models when necessary. Colors and components may vary between original and replacement parts.
The Limited lifetime, original owner warranty applies to Bass rods and for the original owner only. Powell reserves the right to repair or to replace the rod for a warranty fee of either $35.00 or an upgrade fee, and Powell reserves the right to make that determination. If the rod breaks because of a defect in workmanship or materials, then Powell will replace or repair the rod for no charge. Rods that become damaged due to normal wear, accident, misuse or neglect may be repaired or replaced for a reasonable charge, and Powell reserves the right to make that determination. We will advise you of the cost before proceeding.
For all return shipments within the U.S., the original owner will be responsible for a $35.00 fee for each repaired rod to cover return shipping, insurance and processing. International customers will be charged actual shipping and insurance costs, and will be responsible for all related customs and duty charges.
http://www.powellco.com



View all Powell products here at LandBigFish