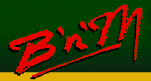 Company Information
For over 50 years, BnM Pole Company has provided the panfishing market with the finest poles and accessories that money can buy. From the beginning, BnM incorporated the latest technologies in pole development from the early introduction of fiberglass to today's latest generation of carbon and ceramic components, BnM has assured its' customers the advantage of the best that science could offer.
One unique fact about BnM: it is the world's only company whose entire product line is dedicated to the panfish sportsman. Every BnM pole is custom-made to be SPECIES SPECIFIC; in other words, a bream pole from BnM is designed from butt to tip for the unique challenges that bream fishing presents. This is true for every pole we sell. And, every pole in our product line is made specifically for BnM... you can't get 'em anywhere else.
Some companies will re-decorate an existing product and market it to a whole new batch of customers. No BnM product has ever been retasked to serve a sport that it was not designed specifically for. When you buy a BnM crappie pole, crappie fishing is what it was designed for.
BnM products are available nationwide in thousands of retail outlets. If your favorite sporting goods store doesn't carry them, tell them you want the best - BnM - fifty years and still catchin' em.
Warranty
B'n'M warrants their products to be free of defects in materials and workmanship. Should any defects appear within a one-year period after purchase, return the pole with your receipt to B'n'M, and if deemed defective will be replaced.
We also have a policy for replacement of broken sections. Call us toll-free at 1-800-647-6363 with your model number. We will quote a price for the new section and ship it to you. This gets you back to fishing in just a few days, saves you the hassle of packing and shipping, and usually costs less than half the price of a new pole.
http://www.bnmpoles.com



View all B'n'M products here at LandBigFish