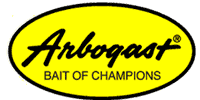 Company Information
The Fred Arbogast Company was founded in 1930 by a man whose first love was fishing. You might even say Fred lived, breathed and dreamed fishing. His interest in the sport began as a favorite hobby and grew to be the focus of a successful business.
Fred Arbogast's determination to outwit the finny tribe was born one day when he was twelve years old. He and his father rode by horse and buggy (for this was 1906) to a lake near Akron where they fished all day -- only to return empty-handed. Young Fred felt dejected, yet determined that he would learn al he could about this challenging and sometimes frustrating, sport of fishing. And, he did.
Fred recognized the need to master the tools of sport fishing and he went on to become an expert with them. He eventually earned two world's records in bait casting accuracy and distance. To accomplish these achievements, Fred spent every available free moment - after school, after work, on weekends - practicing his casting in nearby bass lakes and ponds.
After graduating from Central High School in 1913, Fred went to work for the Goodyear Rubber Company in Akron. But his true love continued to be fishing. Night after night, Fred tinkered in the basement workshop of his home on Barwell street developing and refining lure designs. Weekends and vacations were spent on the water testing his latest creations at favorite fishing spots.
In the late 1920's, Fred hit upon a lure idea that appeared to be a winner with bass. He designed an all-metal minnow-shaped lure with a single upright hook, real glass eyes and a shiny, hinged metal tail. Fred christened it the Tin Liz.
After he perfected the design, he asked his co-workers and fishing buddies to try the Tin Liz and give him their reactions. In not time, the Tin Liz was attracting much attention and full stringers of fish. As the Tin Liz's reputation spread, Fred began receiving so many requests for the lure that it was impossible for him to keep up with the orders in his spare time. That's when he finally decided to leave Goodyear and devote his full attention to establishing a fishing lure company. The Fred Arbogast Company was born.
In 1930 Fred purchased a house at 313 W. North Street in Akron where he continued to produce the Tin Liz and, at the same time, began to develop and market other unique lures. Within a few short years the Arbogast product line expanded to include the revolutionary Hawaiian Wiggler, the now-famous Jitterbug and the Hula Popper. During his lifetime Fred was responsible for developing eleven different lures. Many of the current lures in the Arbogast product line are variations of Fred's original designs.
Among the most unique and revolutionary contributions Fred Arbogast made to the fishing lure industry was his development of the Hula Skirt. Experimenting with his lures, Fred discovered that the addition of a flexible rubber skirt created lively, fish-attracting action, which greatly improved their effectiveness.
Fred's business philosophy was based onhis belief that one must be a fisherman to understand and respond to the needs of other fishermen. He designed each of his lures to solve specific fishing problems he personally encountered when fishing throughout the North American continent. As his company prospered and grew, Fred made a conscientious effort to hire people who were sincerely committed to the sport as he.
Fred Arbogast died in 1947. He collapsed while ice-skating at a public rink near his home. At the time of his death, Fred had just expanded the Arbogast Company to a brand-new, two-story brick facility built near his home on North Street. Fred had been looking forward to the move because it provided the extra manufacturing space he needed to accommodate his growing business and the over one hundred people he employed.
Fred's commitment to producing quality fishing lures lives on. Now one of the most popular lure companies in America, the Arbogast Lure Company produces hundreds of different lures for sportfishing. Arbogast lures have been in the boat and on the docks with the American fishing public for almost 75 years.
http://www.arbogastlures.com



View all Arbogast products here at LandBigFish