Fish Cooker with Cast-Iron Dutch Oven


Fried fish is good. If anyone ever tells you any different, then they've probably never had it before, or they just don't know what they're talking about. Besides tasting good, fried fish is also a quick and easy way to feed large groups at backyard social events.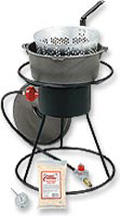 I'll admit, I'm not much of a chef – partly because I'm impatient, but mostly because I don't know what I'm doing. But even I can run a fish fryer like a champion. Especially the Bass Pro Shops Fish Cooker with its Cast-Iron Dutch Oven.
At $54.99, the Fish Cooker is an inexpensive way to cook up your fish, or anything that needs a good frying. The 8-quart pot with lid is easy to clean, and since it's made of cast iron, it'll still be good for cooking many generations from now. The wide stand is made of thick steel with a raised ring to prevent tipping. The plumbing comes from UL-approved hose and high-pressure regulator, and there are very few parts to fail.
I like my Fish Cooker so much, that I took it with me this summer on a trip to Eagle Lake in Ontario, Canada. I took the trip with 14 other people, so we needed an easy way to cook some chow for lunches – and using the fish cooker was about the easiest way I could think of. Once we got to the lake, we drove the cooker out to the designated shore-lunch spot and left it out there for the whole week. Every morning we'd catch a batch of walleyes a cook them up on the shore. The cooker worked like a charm – especially since we had to conserve on propane. The cast-iron pot of the cooker was able to hold in more heat than regular steel or aluminum pots, so it didn't take as much fire from the burner to keep the oil sizzling. Plus, on the last morning, I cleaned the oil out of the pot and used it over the fire to cook my famous "breakfast deluxe," which is a nice mixture of eggs, bacon, sausage, Tabasco, pepper and eggshells (by mistake).
If you like good fried fish, and you like it cooked as efficiently and easily as possible, then check out the Fish Cooker. It comes with everything you need to get started with a pot, lid, base and all the plumbing. The kit also comes with a deep-fry thermometer, aluminum basket, and recipe/instruction booklet. All you have to supply is a propane tank, oil and lots of fish – but sometimes that's the hard part.
* You can purchase the Fish Cooker by clicking here.
The product review is courtesy of Bass Pro Shops Outdoor Site. For great fishing gear, shop our tackle store powered by Bass Pro Shops.