Winter Fishing in Key West is Spectacular
By Bill Vanderford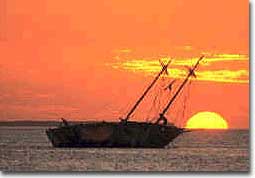 Fishing, shipwrecks, and sunsets are synonymous with the shallow flats and channels near Key West, Florida, and recent visitors have experienced the complete trifecta. With the fairly new wreck of a two-masted schooner having been washed up on a shallow bar near the Calda Channel, many anglers are having their charter captains stop on the way in from a successful day of fishing to photograph the sunset through the rigging of the old vessel. It is quite a sight to behold, but so is winter fishing at Key West!

When most fishermen think of coming to Key West, they immediately picture battles with huge, acrobatic tarpon, speedy bonefish, or powerful permit. In winter, however, most of those fish have migrated to warmer climates or deeper water. Nevertheless, the fish that replace them during the colder months are also excellent fighters and much better to eat.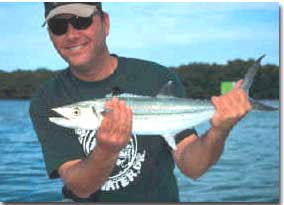 The waters near Key West are teeming with marauding schools of mackerel at this time of year. Most anglers can easily catch their daily limit of three to five pound cero and Spanish mackerel, and many king mackerel exceed forty pounds. In addition, one may find huge schools of redfish that range from ten to twenty-five pounds, and tuna are often abundant in the twenty pound class.
Bottom fishing near Key West will net a variety of fish including several types of grouper, snapper, and grunts. The majority of these fish are also very palate pleasing.
With more than five-hundred species of fish inhabiting the blue-green waters of the Florida Keys, fantastic fishing is experienced daily. Winter visitors experience a kaleidoscope of flora and fauna, including white herons, loons, pelicans, ospreys, and numerous small animals.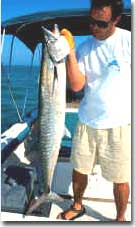 Real adventurers often bring or rent a small skiff, canoe, or kayak, which allows the exploration of many of the uninhabited keys or the opportunity to fish shallow flats within sight of Key West.
At mile marker 20 on Sugarloaf Key is a beautifully landscaped tropical KOA resort complete with waterfront campsites. This modern facility is just minutes from Key West, and the best place to camp close to all the action of the "Conch Republic's" capital city. Camping at these sites may not be the plush way to visit the Florida Keys, but for family fun plus great fishing or snorkeling during the winter season, this is the economical way to go!
The Mardi Gras-style experience in the old downtown section of Key West every night, and the circus atmosphere along the wharf at Mallory Park during the "Sunset Celebration" at the end of each day makes Key West a warm, electrifying destination away from our cooler weather. This final island at the tip of the Florida Keys is certainly a fabulous tropical paradise, but it also ranks among the best places on the globe to get away from the cold, catch plenty of fish, and escape reality for awhile!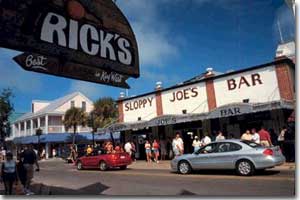 For additional information about reservations or directions, contact the Florida Keys Visitors Bureau through Stewart Newman and Associates at 1-800-FLA-KEYS. For fishing information, contact Capt. Larry Cohen at (305) 294-7670 or (305) 923-7100.
Bill Vanderford has won numerous awards for his writing and photography, and has been inducted into the Freshwater Fishing Hall of Fame as a Legendary Guide. He can be reached at 770-962-1241, [email protected], or at his web site: www.fishinglanier.com