Another Slammin' Summer!
By Richie Lott

This year has been simply incredible for most species of fish, whether you fish Inshore or Offshore.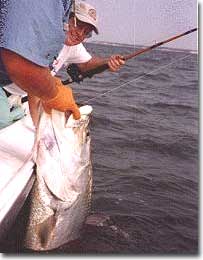 Georgia's 40 mile bottom produced some impressive numbers of Snapper and Grouper along with a few migratory game fish as well. Capt. Greg Smith, owner of Ducky II Charter Boat Service on St. Simons Island, caught several limits of Red Snapper, Vermilion Snapper, Grouper and several nice Cobia on almost every trip he made. In addition to the general Brunswick 40-mile bottom area, Navy tower M1R1 produced some nice fish for us too. Cobia, Dolphin, Snapper, Grouper and Kings have been consistently boated throughout this spring and early summer season.
I think we ought to give Georgia Offshore fishing a "6" out of a high score of "10" on the King Mackerel season this year. It was a bit on the slow side for most anglers, and I didn't hear of many limits of fish being caught out of Golden Isles Marina or Jekyll Marina. I heard tale of several boats out of Savannah boating a good number of school size Kingfish on the offshore reefs from St. Catherine's Island on up to Hilton Head.
The catch of near shore fish species has been absolutely "Off the Hook!" We started out catching Sharpnose sharks and TripleTail in late April and we slowly progressed into Tarpon, Jack Crevalle and Spinner Sharks in May, June and July. With the bait situation as consistent as it is, anyone should be able to keep a rod bent most of the day with decent size fish on the other end.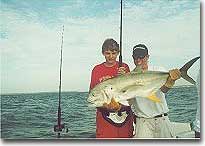 The Tarpon fishing has started out a bit slow, but the numbers of fish being caught are slowly on the rise. We have seen hundreds of Tarpon, but it's tough to get a strike when the Tarpon are munching in a bait pod the size of 3 city blocks. Our normal Tarpon spots on the sandbar cuts in St. Andrews Sound are becoming more productive each day with the warm water temperatures and the bigger bait moving onto the beaches. As these fish fall victim to their normal patterns, we'll see catch numbers shoot through the roof aroud the next full moon. Myself and many other Charter boats and recreational fisherman will soon roll the dice in hopes of guessing the right location of these fish according to the tide level.
The Jack Crevalle have been biting well most of the season. We have had many Jacks over 25 pounds and a ton of shorts in the 5- pound range. As these fish show up in the Hampton River and St. Simons Sound, we target them with a floating lure such as a Rapala "Skitter Pop". That's one of my favorites for targeting schooling Jacks. They are notorious for having a bad attitude, and they will hit a bait or lure just because it's in the way.
The Spinner Sharks have been more than cooperative behind the shrimp boats as NMFS opened up the three-mile line for commercial Shrimping. Now, State waters are open as well, and the bite is simply "Ugly!" I wouldn't want to fall in the ocean while drifting behind a Shrimp Trawler. I don't think you would make it out alive! We have seen these fish frenzy over a single menhaden dropped out behind the boat. "Fish On!" is a normal occurrence this time of year.
Scoring multiple hook ups on a single drift is not a problem with a little practice and know how. You begin to learn which Shrimp boats hold the most abundant amount of fish. To name a few good ones, I must mention the following; "Predator", "War Horse", "Joann-B", "Bryan & Shane", "Gambler" and a handful more, hold a serious amount of spinners and Black tip Sharks. Great fun for a day in the sun!
If you own a boat, get out there and bend the rod. You don't have to know a whole lot. Just cast net some pogies where you see pelicans diving and head for the nearest Shrimp Boat. You'll be glad you did when the first 200-yard screaming run of a jumping Spinner Shark sings music to your ears.
(All Round Big Game Arsenal)
7 ft. Ugly Stik (30-60 class rod)
Shakespeare Tidewater 50 A Reel (Spooled with 40 pound mono)
6 ft. of 250 pound mono leader
A Small Float attached to the main line above your swivel
Mustad 7766 Tarpon Hook
Enjoy your days on the water and take your kids fishing. They are the future of the resource, so practice catch and release whenever possible.