Fishing Evens the Keel for Bill Acree
By Bill Vanderford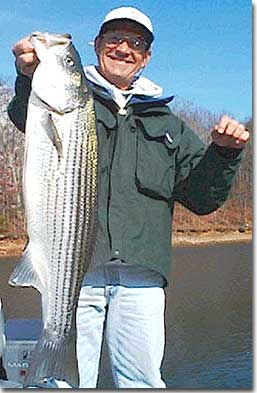 Watching Atlanta Braves Traveling Secretary and Equipment Manager, Bill Acree, in his office at Turner Field, is like viewing a human dynamo. A constant stream of players, coaches, workers, and even media people walk in to ask for everything from rental cars to tickets. In between the steady flow of human bodies with their varied requests, Acree is continually on the telephone answering questions, ordering equipment, or just handling everyone's problems. His patience and proficiency are phenomenal, but that's why everybody in the Braves organization relies on him so heavily. Despite not being directly involved in the on-the-field problems, Bill Acree is probably the most important person on the staff for seeing that all the details run smoothly in day-to-day operations.

Though he is usually the last person to finish his work each day, if he has any daylight left, Bill Acree has found a way to make all the gremlins of his hectic day disappear, and charge his batteries to face the next. His "magic potion" is something he learned to love many years ago at a much younger age............fishing. Though he now lives on Lake Lanier in Forsyth County, Bill Acree was born near Gainesville, Florida. His early fishing experiences, however, were in New Jersey. He often spent youthful summers enjoying leisure times with his relatives along the Atlantic Ocean.

"I had an uncle and cousins who fished all summer," said Acree. "One of my older cousins would put me on the handlebars of his bike and take me down to one of the rivers. We'd catch bluefish, flounder, or just search for clams along the beach. It was a wonderful way to while away the summer, so I fell in love with the water and fishing."

Bill Acree has been working for the Atlanta Braves since they hired him as a field hand before he turned 16 during their first year in Atlanta. He has since worked as the visiting player's helper, in stadium operations, and during 1973, became the Equipment Manager for the Braves. In 1981, he added the title of Traveling Secretary, and has continued to perform both jobs admirably. Therefore, most of his fishing experiences and adventures since his teen years have been entwined with Braves baseball.

In the past, Bill Acree and the Braves traveled to West Palm Beach, Florida, each year for spring training. It was on one of those early trips that Acree met Charlie Hohendel, who would have a profound effect on his growing love of angling.

"Charlie was retired and ran a fish camp on Lake Okeechobee," related Acree. "He's a great baseball fan, and would often come to the ballpark during spring training."

"One day, he took me out to the city reservoir in West Palm," continued Acree. "Until that time, I had relied primarily on live bait, but Charlie taught me the art of fishing a plastic worm that day. It changed my whole outlook on fishing, and opened up a new world of enjoyment to me."

Since then, Bill Acree has become an accomplished angler with all types of tackle, including flyrods. He has introduced many players and management people to his world, and through fishing, has taught his children, Carolyn, Billy, and Ben, to love and respect the outdoors.

Though Bill's kids are grown and gone, his friend Charlie has become too old to go out on the water anymore, and the Braves have moved their camp to Walt Disney World, Acree still loves to fish. So, now that the baseball season is over, many winter days will find Bill Acree exploring exciting fishing spots at Lake Lanier. As always, he'll catch and release plenty of fish, but most of all, Bill Acree will shed the weight of the dragons he slew during another pressure-packed year!