Tampa Bay's Inshore Slam
By Fred Everson

Florida's West Coast offers a wonderful opportunity for fly fishermen to pursue one of the great quests in saltwater flyfishing -- the Inshore Slam on the fly -- snook, redfish, and speckled trout.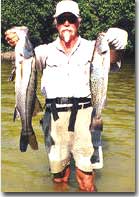 This quest is something you can pursue on your own, with a pair of wading shoes and your fly fishing tackle. A speedy flats boat would permit you to cover the whole bay, but you don't have to cross a lot of water for an Inshore Slam in June. You will find all the components of the slam on the flats mentioned herein. Most are accessible by wading, while others require only a canoe, kayak, or John boat with a small kicker.
Let's concentrate the quest on the East Bay flats; a long shoal that runs from Apollo Beach south to the Sunshine Skyway Bridge, about 16 miles.
The flats on this side of Tampa Bay are mostly firm, sandy bottom, which means nice wading. You could pursue the slam from the casting platform of a boat, but wading is more productive. Water temperature will be in the high 70s to low 80s; waders are not necessary. Stingrays are plentiful, but won't bother you unless you step on them.
Tackle
One rod will do. A 9-foot eight-weight with a weight forward, saltwater taper line, and a quality fly reel spooled with 200 yards of 20 pound backing is ideal. Leaders should be at least 7-1/2 feet (knotless to shed algae), tipped with a foot of 25-pound flourocarbon. A white streamer on a 2/0 hook will do it all, but any saltwater pattern you like will suffice. Weighted patterns work on redfish when they are tailing, and red and yellow poppers are candy to trout. Experts here turn to small, brightly colored flies when the bite is slow.
Species Of The Slam
Snook
Snook may be the hardest part of the slam, but they are easiest to find. Approach snook with a fly as you would black bass. Snook will hang on the edges of the thickest grass, or along mangrove shorelines at high tide. Check passes, creek mouths, oyster bars, and points that disrupt current. At low tide in shallow water, snook will often congregate in schools on the edge of a grass flat. You can distinguish them from other fish by their distinctive, transparent yellow fins and tails. Snook over 30 inches fight a heavier fight than smaller fish, but are not as rambunctious. They do a lot of head shaking, but don't jump often. The danger in playing any snook for too long is that the leader will wear through. The hardest fish to land are those between 26 inches and 32 inches because they jump more. A 25-pound shock tippet is minimal. They are hard-mouthed with sharp edged gill plates.
Snook make a distinctive popping sound when they hit a bait on the surface. They are most active in low light. I like the last two hours of a falling tide around sunrise or sunset when targeting snook. Also look for swirls, and nervous water. Light winds prevail on Tampa Bay around sunrise and sunset late spring through early fall. You can see a lot of activity on a flat this time of year. If you find large schools of tiny glass minnows, the predators will be in close proximity.
Redfish
Redfish will hang close to the snook, but over a bottom mix of sandy potholes and grass beds. If redfish are showing their tails, it is time to tie on a clouser minnow or a crab pattern. These fish are rooting for crustaceans. Cast as close as you can to tailing fish, and let the fly sink to the bottom. If the red sees the fly and it prompts a swirl, you have only to hang on.
Redfish are not considered as wary as snook, but I don't find that to be the case. They can be much more finnicky when it comes to artificials, and are very sensitive to stuff hitting the surface.
Once hooked, they run for the horizon. They are stronger than snook, and a redfish over the 27-inch maximum length will cause more concern about backing than a big snook. There will be no jumps, and the runs won't be as fast, but the fight will probably last a lot longer. Redfish have more stamina than snook, and they require relentless pressure. You run the risk of playing them to death, or even getting spooled if you don't take charge early in the fight.
Redfish are usually more visible than snook on the flats. They are more apt to hunt in groups, and they also like to hover around big, sandy potholes where they are easier to see.
Sunrise and sunset are the prime times to fish for reds in late spring and early summer. They seem to feed more aggressively on the early incoming tide, which is convenient. Fish for snook the last two hours of the outgoing tide, then target reds when the tide changes. The same tactics apply; work the edges of the grass, the points, the oyster bars, and the mangrove passes you would for snook, but also the troughs just inside the sand bars on the outside edge of the flats.
Sea Trout
The last part of the slam is the spotted sea trout -- easiest to catch, if you can find them. Big trout -- those over 20 inches -- are not school fish; they usually hunt alone. I look for big trout in the same areas I hunt for snook and reds, but at a different stage of the tide. Trout like more water, so I fish them at high tide in three feet of water, over thick patches of sea grass. A change in flys might be in order here too. A red and yellow popper will attract the attention of 'gator trout, which are more aggressive and more fearless than either snook or redfish. But for all the bluster and long teeth, there is not nearly as much fight in them. A big, white streamer will also catch trout, but you will cover a wider area with the extra attention a popper brings.
Trout are also best fished for around sunrise and sunset, particularly in hot weather. Mid day fishing on Tampa Bay in summer can be brutally hot, and mostly unproductive. Sunrise and sunset is when you should be on the water for the Inshore Slam.
Where To Fish
A good start would be the flats south of Apollo Beach. Access for powerboats are at Apollo Beach Marina or Bahia Beach Marina. Canoe or kayak fishermen could put in at E.G. Simmons Park. This is a great stretch of mangrove shoreline here.
From the mouth of the Little Manatee River south is more of the same. A free public ramp at Cockroach Bay is open 24 hours, and much of the bay is an aquatic preserve that restricts use of internal combustion engines. There are great opportunities here to paddle or wade.
South to Port Manatee is a stretch of grass flats north of the boat ramp (suitable only for small boats). Farther south lies Bishops Harbor, with another ramp for small boats.
April, May, June, September, and October are the best months to shoot for an Inshore Slam. Non residents of Florida must have a saltwater license.