Redfish On The Fly
By Fred Everson

Saltwater fly-fishing continues to increase in popularity despite being harder and less productive than live bait fishing, or even than lure fishing with more conventional tackle.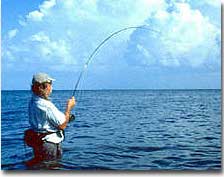 The reason is that catching fish on the fly is a heightened sensation that rises above anything you can get from spinning tackle or baitcasting tackle.
Redfish on the flats are perfectly suited for intermediate fly fishers looking to take their fishing to the next level.
Fishing the East Bay flats of Tampa Bay for redfish is often a visual thing. Redfish are here all year long, but they seem to come and go on certain flats with changes in weather and wind. They bunch in schools in late winter and early fall, and mostly disperse the rest of the time.
When redfish are schooled up, as they often are this time of year, they can be easy to find. They push a lot more water than mullet do, and can actually turn the water to a coppery color.
Redfish Can Be Easy To Find
According to Capt. Chet Jennings, "When redfish are bunched up like this, they are a lot less spooky than when they travel in small pods."
This makes sense; the bigger the school of fish, the more secure the individuals are apt to be.
Seeing a school of big redfish in shallow water presents a wonderful opportunity to flyfish -- especially if the water is shallow enough to get off the boat and wade into them. Be advised that reds require fairly stout saltwater fly tackle. Ten-pound fish are common this time of year, and an 8-weight fly rod is perfect -- even a 10-weight would prove useful if you got into a school of big bulls in the 30-pound and 40-pound class.
I use a floating flyline with a saltwater taper for redfish. This line is easy to cast because the line is weighted more toward the end you tie your leader onto. Sink tip lines are a pain to cast, and they are hardly necessary for throwing flies to redfish in shallow water. When I need a fly to get to the bottom, I will throw a clouser minnow or a weighted crab fly, but most often a saltwater streamer pattern will do. Just make sure the hook is sharp; because redfish eat a lot of crabs they are hard mouthed. When redfish are tailing in shallow water, the crab imitation is hard to beat.
Setting the hook on redfish with a fly rod is done with a sharp pull of the flyline with the rod tip pointed straight at the fish. This is called a "strip set" and it's a hard thing to master. With more conventional fishing tackle you set the hook with the rod tip, but because fly rods are longer and more limber, this technique seldom works very well with saltwater fish in general, and redfish in particular.
To get the fly to the fish, the angler needs to be able to throw it accurately out to 60 feet. This is not all that difficult to do with routine practice. Fly fishing on this level also requires a sound understanding of how to tie low profile knots. A flyline is only about 100 feet long, so it needs to be tied to 200 yards of backing. The knot connecting the two must be compact and smooth enough to travel through the rod guides at high speed, under pressure, or something is going to break.
The first run of a bull red on fly tackle will make you think you snagged a submarine. Then there is the knot connecting the leader to the flyline, and the knots used to build a compound tapered leader. That makes for a lot of knots, and they all need to be perfectly tied to land redfish, which are possessed of incredible strength and durability.