Power Pole Provides Instant Boat Position
By Fred Everson

In the shallow water environment of West Central Florida, boat position is crucial in every aspect of skinny water fishing. From netting bait, to creeping in on a school of redfish, maintaining a precise location of your boat often means the difference between catching fish and getting skunked. It prompted on angler, John Olivieri of Brandon to start thinking about a better way to control boat position. Anchors are noisy, clumsy, slow to bite, and will seldom hold you exactly where you want to be. Staking out with a push pole is perhaps faster and quieter, but this depends on composition of the bottom. Forget about staking out over hard bottom.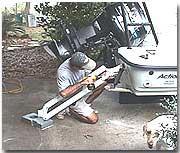 What Oliverio ultimately came up with was the Power Pole, -- a fiberglass stake on a hinged arm powered by an electric motor. Push a button and down it comes, stopping your skiff instantly and precisely in up to five feet of water.
Now that might not seem like a big deal to some anglers, but Florida flats fishing is hardly a casual game. Skiffs can cost more than a comfortable house. A quality push pole is more than a week's salary for a kid in a fast food joint - with overtime. Trolling motors with all the bells and whistles can run a grand. You bet this is serious stuff for the guys who do it.
Take the Watts brothers over in Mulberry. These guys run Suncoast Fiberglass where they work on all things made of fiberglass, mostly boats, but primarily they live to fish. These guys are not casual weekenders, but competitive tournament fishermen. And they win. At a tournament in Flamingo this year they finished in first place. The prize was a Maverick flats skiff made of carbon kevlar fiber and it weighs less than the fat lady in a cheap circus, and costs as much as a new double wide. The first thing they put on it was a Power-pole.
"We fished the Professional Redfish Tour this year, and with redfish, boat position is everything" said Greg Watts.
Twin brother Brian Watts nodded in agreement.
"In wind or current in shallow water you come up on a school of reds quick. There's often no time to stake out, and anchors are just too noisy. The Power-Pole stops you on a dime with the flick of a switch. That can mean the difference between blowing out a school of fish, and hooking the two big ones it takes to win."
And these guys know what it takes to win. They finished in 12th place at the last tour event in Titusville and finished in the money in enough of the previous five events to qualify for the Championship in Jacksonville.
Chet Jennings and I fished several of the Redfish tour events and with $10,000 at stake for first place, you want every mechanical advantage money will buy. We did not have the luxury of a Power-Pole during the Sarasota event, and it cost us fish. The morning started out very windy and there was a good bite on soon as we stopped the boat at a spot we had been scouting for a couple of days. I was on the poling platform but could not hold the boat on the fish because of the wind.
"This is exactly where you need that Power-Pole" Capt. Jennings said to me as we drifted out of casting range. We were right on a school of tournament sized fish, but couldn't hold the boat with the push pole and didn't dare run a trolling motor because it was so shallow and the fish were spooky. An opportunity lost, and another never presented itself the remainder of the day.
The Power-Pole is mounted on the transom - a hinged fiberglass stake powered by the same type motor used to run trim tabs. It is quick, quiet and sure to stop any flats skiff in up to five feet of water.
Certainly an advantage worth having if you are serious about catching fish. Check out the web site at Power-Pole.com or contact John Oliverio: