A Flats Lure for All Seasons
By Fred Everson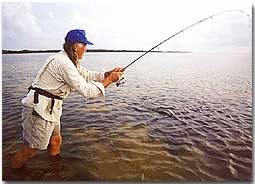 "I don't know what they think it looks like," said my friend as we walked across the flat. "It doesn't look like anything. Maybe a needlefish." And to see the white, soft plastic jerk bait dangling from the tip of my long rod in mid air I could hardly disagree. But it does its work in the water. It caught 100 snook for me in two months.

The bait is six inches long, something like a rubber worm, except fatter, firmer, and straighter. In the water, when rigged right, it will dart side to side –like walking the dog with a Zara Spook. And I believe it is this darting action that triggers fish to whack it.

Besides action, another characteristic of the jerk bait that makes it ideal for shallow water flats fishing is stealth. You can cast it very near a fish without spooking it, because the light plastic bait hits the water with such a little splash that fish think it's real bait flicking the surface.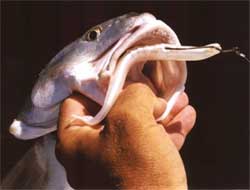 Snook, redfish, big trout and jacks all hit it with gusto. I have tried several brands; 12-Fathom Slam "R"s, Mister Twisters, and the six-inch Riptide Jerk Baits. One of my friends even caught a big flounder on one. So whatever it looks like to us, to fish it obviously looks like something to eat. I fished the same white bait for four months on the flats of Tampa Bay. What a treat not to worry about having to switch lures. About the only change I make in the bait is to sometimes add weight by inserting a finish nail into the head. This makes it cast better when it's windy, and will sink the lure faster where you need to fish it deeper.
When I started fishing these baits, I picked my hooks at random – using whatever was on the pegboard in the store I happened to be in. This did not pose a problem until I began to hook some bigger fish. When a big snook turned on a bait with the swirl and swoosh of a trophy, I was able to stop the fish after its first run, but then the line suddenly went slack. The freshwater hook had straightened. I had told myself the 10-pound test line would part before the hook straightened, and I was dead wrong. I started using Owner hooks, Extra Strong 4/0 and 5/0 are what's wanted for tough customers like snook, bull reds, and jacks. I like the big True Turn hooks too, but they are more prone to rust than the Owners.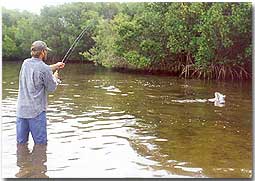 Another thing I experimented with in conjunction with the jerk baits was fluorocarbon leader material. James Manley, a sales rep for fishing tackle wholesaler Folsom of Florida, game me a spool of 25-pound test Triple Fish fluorocarbon to try. The first thing I noticed was that it seemed stiffer and harder than monofilament, and it resisted abrasion well. But the selling feature of fluorocarbon is low visibility once it's in the water. I had never tried it before because it was so pricey – costing four times as much as monofilament leader material, but now I am convinced it makes a difference. At around $18 for a 50 yard spool of 25# test, it works out to about 20 cents for an 18 inch leader, which is hardly unreasonable. Especially when a bag of 10 jerk baits is less than four bucks. The fluorocarbon leader material is a little harder to tie, which is the only drawback besides expense.
I began using Stren's Hi Impact monofilament before I started fishing the jerk baits. I was impressed by the line's lack of memory and by its knot strength. I had a chance to put the line through the mill on a local school of jacks that were averaging close to 15 pounds. I couldn't even break them off intentionally. I have tried this line in both clear and low visibility green, and I like both.
Jerk baits will cause line twist, even when rigged properly. I connect leader to line with a uni-knot; careful to trim the tag ends close to the knot to minimize weed fouling. I tie the same knot to the hook, leaving a small loop to enhance lure movement. The standard Texas rig is ideal for fishing weedy summer flats, but care should be taken to rig the bait in line with the hook, otherwise it will corkscrew through the water, twisting your fishing line and deterring strikes. I push the hook point into the bait where the mouth would be, and then bring it out through the chin a quarter of an inch down. The hardest part to get right is gauging where to insert the hook point a second time in the belly of the bait. Too far back and the point will lie buried in plastic where it will miss fish. too far up and the bait will sag between the eye and the bend of the hook, which will cause the bait to spin instead of dart. If the bait doesn't look right, re-rig the bait on the hook until it's straight.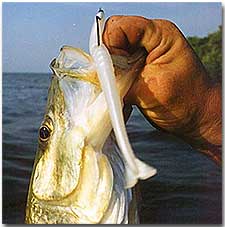 The soft plastic bait is tougher than it looks. I have caught up to four snook on single bait. The first part to tear out is where it is hooked in the head. When that happens, I bite half an inch of the head off and re-rig the bait. You can do this a couple of times. As long a bait darts in the water, I will continue to use it.
This weedless rigged bait allows you to make those productive casts right into the tangle of mangrove roots, or into the middle of a patch of saw grass. With the hook point sheathed in plastic, this is a very forgiving rig – much more so than three sets of naked treble hooks.
Another big advantage of the jerk bait is its nearly neutral buoyancy. This means that once you get the bait into the sweet spot in the shadows and the cuts, you can keep it in there a long time, fishing it very slowly with slight jerks of the rod tip. The violence of the strikes the jerk bait draws in the shadows is often shocking.
Most of the fishing I do with this bait is in shallow water. I prefer to get off the boat and wade when the water depth is between the knee and the crotch. If the water is deeper than that, I fish from the boat. I have had my best luck fishing jerk baits for snook and reds in water that is knee deep. Trout seem to like it a lot deeper.
Wade fishing is pretty simple with jerk baits. You can carry a pack of hooks and some spare leader material right in the zip lock bag the baits come in and carry that in your back pocket. I tend to range far from the boat once I go over the side, so I have a fanny pack that has a couple of compartments, and a water bottle. I carry a couple of bags of baits, hooks, leader material, a spare spool, sunscreen, bug dope, and a stringer.
When fishing in clear shallow water, you should also consider what you wear to avoid spooking fish. White hats and shirts are alarming to fish. Sky blue or green are colors that will blend you in with your background better from the fish's eye view. Polarized sunglasses are essential to cut the surface glare of the water to judge the best lies, and to actually see the fish.
I have been able to make the most of fishing jerk baits because I fish with long, light custom rods that cast these baits well, but a seven-foot spinning rod with a moderately fast action will do. I like more flex in the rod tip for casting light baits. Hook setting is over-rated on the flats. In fact, I heard one prominent snook guide give a seminar where he repeated over and over, "Never set the hook on snook!" I agree, especially when fishing jerk baits. The Riptide baits are scented and flavored, and my experience has been that fish hang onto them a long time. If you must try to set the hook, let the line come tight first, and then pull to the side.
The obvious places to fish jerk baits on the flats for snook are the cuts in the mangrove shoreline, oyster bars, and over grass. Snook hiding in the grass on an open flat are not there to relax. To enter that hazardous environment where they themselves could get eaten by a porpoise or a shark means they are hungry. I pay particular attention to large patches of grass near creek mouths, and gaps in the shoreline where the current flow will be exaggerated.
Redfish seem to prefer a mixture of sand patches and sea grass. They are every bit as wary as snook, and may even be harder to entice with plastic. The fluorocarbon seems to be even more important with redfish, which paradoxically are not supposed to see as well. Can't prove it by me.
Trout are most often found in the deeper water on the outside edge of the grass. The specks I have been catching on the six-inch baits have all been big, 18 inches and over. The smaller fish don't seem to mess with the six-inch bait, which is fine by me.
If you enjoy fishing artificials and you haven't learned to fish the versatile, effective jerk bait yet, you are missing out. I used to figure the lead headed jig was the most versatile and effective lure ever devised, but I haven't tied one on in a long time. Being able to skip a bait into those tight spots, deep in the shadows, with small chance of getting hung up is a huge advantage. Not having to change lures to accommodate different species is another. Give the jerk bait a thorough try out and I am sure you'll get hooked.