Redfish in the Roots
By Fred Everson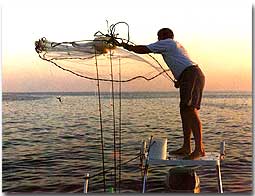 Redfish breaking me off in mangrove root structure is a problem I was not familiar with, but my friend Nick Winger, an angler of consummate skill assured me it was going to happen. Despite my respect for his angling ability, I was skeptical. I knew he had broken a couple of rods doing his thing, but I really couldn't picture how. It turned out to be an error of perception. When I fish redfish, I usually fish for them on the flats and on the shallow mangrove shoreline between Apollo Beach and Simmons Park and around Cockroach Bay on Tampa Bay. The fish here usually run for the horizon and away from the shoreline because these are particularly shallow flats. But we were headed for Bishop's Harbor, just inside the Sunshine Skyway Bridge at the mouth of Tampa Bay, where Nick assured me big redfish behaved like snook. We would see.

We left Apollo Beach in the early morning darkness, driving to the ramp at Cockroach Bay. It was a Saturday and we had hoped to beat the rush for the ramp, but it was not to be. There were a couple of boats waiting to put in, and one of them was of the maddeningly slow variety that make you antsy. But finally we were up and running the short distance to Piney Point where we stopped on the flats to cast net some bait. Daylight was just beginning to show in the eastern sky. Nick quickly mixed a can of jack mackerel with a loaf of wheat bread, a can of sea water, and a few drops of anise oil. Then he set an anchor off the bow, and staked out the stern on the pole. This kept the boat from swinging in the wind, and allowed a precise target area for the big cast net.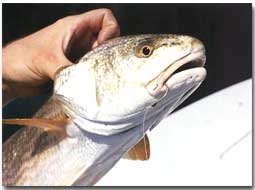 "I spend some time chumming the bait in close so I only have to throw the net a couple of times," Nick explained.
I understood perfectly. He was throwing a, heavy 10-foot net, and that's a lot of work. Unfortunately, the baits were scattered that morning. It took about a dozen throws to satisfy Nick that we had enough, and many of the baits were pinfish. Neither of us were fans of pinfish as bait, preferring greenbacks for snook, and cut threadfin herring for the reds. There weren't any threadfins about, and as things turned out later it was pinfish that saved the day.
From Piney Point to Bishops Harbor is a short run in Nick's 20 foot skiff powered by a 200 HP Mariner. Nick was soon positioning the boat at the mouth of a pass in the mangroves. Our first target would be snook, but the current was slack, and nothing boiled on the handful of bait that Nick tossed onto the edge of the mangroves. The snook weren't biting, but the no-see-ums sure were. Finally a snook boiled on a bait that flew off Nick's hook as he tried to find the range. Casts here have to be precise, and thus far neither of us had been able to hit the mark. Snook are efficient predators that will not expend energy chasing down baits not placed in easy reach, which seems to be about three feet.
Our casting woes haunted us all day as we struggled to find the range, which was relatively short most often, but hard to place because of the mangrove canopy. Nick assured me that both redfish and snook lurked in the shadows, but that they would not move far for a meal.
This kind of fishing calls for a lot of bait. Greenbacks are delicate and will come off the hook or die after a couple of casts. Small baits don't have enough weight to cast well, so that makes you cast more and go through the bait even faster. We were using #1 forged, live-bait hooks to minimize damage to the small fish, and to present them as naturally as possible.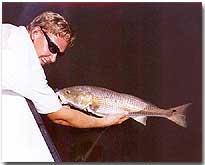 Nick finally put a hook into a small snook out of that first pass, but the bugs were biting a lot better than the fish in the early morning calm. It was also very hot for that time of day and that time of year, even for West Central Florida, so we moved to another spot. Nick took me to a an unlikely looking spot where the water was dead still, and there were no other boats - an unusual thing anywhere in this part of the world on a Saturday morning.
"You won't see much boat traffic here" Nick assured me as he carefully positioned the boat to aim the bow at the mouth of a little pass through the mangroves. He staked out the bow and instructed me when and where to drop anchor off the stern. Boat position is important in fishing any type of structure, be it mangrove roots or bridge pilings, and it often takes two anchor points to maintain it.
There was a hole in the mangrove canopy about the size of washing machine, and it went back into the overhanging branches about six feet. It proved to be a difficult target, even for a short cast. We went through dozens of greenbacks trying to get a bait in the perfect position at the back of the opening in the pass. But every time a bait found the mark, it was attacked by a big red. Nick landed a smaller fish after about a hundred casts, and I got broke off a couple of times. I had actually pulled one fish away from the root structure, only to have it break off on the stern anchor line. It was about played out and over the 27-inch maximum anyway. Things were looking up.
The big change in our luck came when I made the switch to pinfish after we had used up most of the large greenbacks. The pinfish is hardier, and casts better because of its compact size. Not a favorite of snook fishermen in most places, it seemed to me that it might be effective for redfish that were hunting around mangrove roots. And indeed that soon proved to be the case. By being able to cast the pinfish with more precision, I was soon able to place a couple of baits in the tail end of the pass. I got broke off four times before a big red finally chased a bait to a point where I could muscle him away from the roots. This time Nick pulled the stern anchor, and I landed the 27-inch fish after an intense struggle.
Nick followed my lead and made the switch to pinfish and got broke off a couple of times right away. We tied lots of knots this day. He finally connected with a big red and was able to force it away from the edge. This fish turned out to be 31 inches and was carefully released after a quick photo.
We landed a couple more fish, and I got broke off again before the warm September sun finally took its toll. We made the run back to Cockroach Bay with couple of rolls of expended film, and considerably less tackle than we started with.
Nick said that he had been catching the big redfish in these tiny passes around Bishop's Harbor all summer.
"The trick," he says, "is to get here early with lots of bait." He said that nothing seems to work as well as small pieces of cut bait in the form of threadfin herring. He likes to chum the fish into feeding by tossing handfuls of the cut bait along the edges of the overhanging mangroves, theorizing that the threadies are oily and smelly, making them easy for the redfish to find in water that is often murky. But on this day we went with what we had, and pinfish saved the day. In fishing, it usually pays to keep an open mind and be persistent. Being able to stick with the game plan in hard to fish places is often what separates those who catch fish, from those who don't.
Exploring Bishop's Harbor
Bishops Harbor is a busy place on weekends, and requires a shallow draft skiff for thorough exploration. Average depth is between two and three feet, with enough oyster bars to keep you honest. A push pole and a trolling motor are practically essential. So is a large scale nautical chart, and a tide chart.
Once inside the harbor, look for the deeper holes, cuts in the mangroves, and creeks. Nothing like a trained eye for fishy cover for this search. Bishops Harbor is a big place with lots of great looking mangrove shorelines and oyster bars. Congregations of boats do not mean much. My friend Nick Winger took me to spots where we never saw another boat, where we were nearly constantly hooked up with big redfish, on a perfectly beautiful late Saturday morning, despite the usual weekend crowd at the ramps. With redfish, it would appear that water depth is sometimes a substitute for current. Everywhere we caught fish, there were small pocket drop-offs in close proximity to tiny passes through the mangroves. Nick emphasizes the need to position the boat properly around these passes, as casts have to be placed in the shadows, right amongst the root structure. Sunny days seem to produce better than the rare overcast - we theorize that it drives the redfish into the mangrove shade, particularly in the summer months when the water temperature is soaring.
There is a dirt ramp on the back side of the Harbor that's okay for smaller boats, if you have bait, or plan to fish artificials. It's on Bishop's Harbor Road off Route 41. If you have never been there before, allow enough time to take a look at the ramp. You may be better off launching at Cockroach Bay if you need to net bait, or you have a bigger boat. It's a short run from the Cockroach Bay boat ramp to the Harbor, with plenty of grass flat in-between where you can chum up all kinds of bait; greenbacks and pinfish are plentiful most of the year.
Frank Sargeant's book, "Secret Spots" offers a nice chart of the harbor on page 51, with some of the redfish spots marked. These are right on, and good places to start. Be sure to tackle up. There are plenty of big reds here, and you will find them close to cover. Ten pound test and a high quality, stiff graphite rod are minimal. A 25# leader is necessary because you will find most of the reds hanging in the shadows, in root structure. Set the hook, finger the spool, and give 'em the rod soon as you hook up. Any fish that can hold his ground will break you off. Bring lots of leader material and forged hooks.