A Spinning Rod for the Flats
By Fred Everson

A Case for Custom Built Rods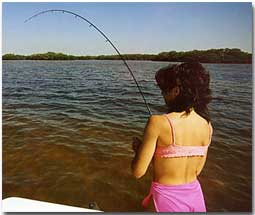 When I started designing flats rods five years ago, I knew what I wanted the rod to do, but I wasn't quite sure how to achieve it. As a fishing guide, I was able to experiment freely with my rod designs. And by being able to sell a few, I could keep making changes in the length of the blank, the number and size of the guides, and the length of the handle, size of the reel seat, and try some different types of blanks. This process is endless. Even though I have developed a spinning rod for the flats that I am well pleased with, manufacturers are constantly making improvements to components.
I started out with a fairly light blank at a length of 8 ½ feet. I thought that first rod a bit unwieldy because I was fishing a heavy chrome spoon. It was and is a good lure to cast, and it will catch fish, but mostly I think I liked it because I could cast it so far. A great lure for mackerel, but of limited use on a grass flat. I wanted a rod tailored to throw a more practical, versatile lure, and I soon learned that lighter is better in shallow water.
I trimmed that first rod to eight feet, taking three inches off either end, and I liked the improvement. This rod performed well with gold spoons, and small plugs on open water. Slot sized reds were manageable, and so were snook on the open water of the flats – as long as I pressured fish relentlessly – which you should do, especially if catch and release is the order of the day. The last thing you want is to play a fish to death – which can be done quite literally with tackle that is not up to the job.
I used a Daiwa spinning reel on that first rod – a Regal Z 2500 – a fairly small reel that spools 170 yards of eight-pound test. I never hooked any outsized fish on that rod, but from fighting big reds, and some jacks in the ten pound class, I was satisfied that trophy snook wanted stronger medicine. I was also experimenting with different brands of monofilament between six and 14-pound test, seeking a perfect match of rod, reel, line, leader, and bait.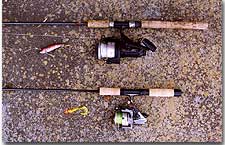 I went up a couple of sizes in the blank and kept the length at 8 feet. I stayed with the same reel but had settled on 10-pound test monofilament – Stren's Hi-Impact. With the drag set properly, I couldn't break the rod or the line; I was using big jack crevalles to perform equipment checks. I also hit a few oversize reds in the 30 inch class on the open water of the flats, using soft plastic Riptide jerk baits, which were quickly becoming my lure of choice. This rod cast well, and handled the slot size fish okay, but I could tell it wasn't strong enough medicine for a trophy snook. The rod and reel were a perfect match, but line capacity became the hitch when I made the switch to 10-pound test. That left only a hundred yards of line on the spool, and I was casting nearly half of it. I hooked a 29-inch redfish, and it took all but 10 or 20 yards of line before I turned him.
When I hooked a 36-inch snook on the flats with this rig, it took me near the bottom of the spool twice. A bigger snook would have spooled me, and I had seen a couple around.
I went back to my tackle supply catalogue and found a 9 foot blank that was slightly heavier, American made, and 100 percent graphite. I ordered three of them, along with a slightly longer cork handle, a bigger reel seat, and a 3500 Daiwa Regal Z which would spool over 200 yards of 10 pound test. I cut the blank back 9 inches for an overall length of 8'3".
This rig was heavier because of the larger reel, but not much. It is still lighter than most 7 foot spinning outfits you would buy over the counter.
The length of the rod casts the soft plastic Riptide Jerk Bait much farther than you would expect. And it throws the more aerodynamic Salt Rat, also by Riptide, even better. With my latest flats rod, I am confident that I could land any snook I encounter on open water, and just about everything else outside of giant tarpon and big cobia.
This doesn't mean the process of experimentation is over. There are other guides to try, and other blanks. All I have down is the size and shape, and the basic design. For me the fun in rod building and design is to try something and have it work. I will keep experimenting with guide ring sizes, and materials. For example, I would like to try the Fuji Cermet guides, but a nine-guide set can cost almost $200. I would also like to experiment more thoroughly with guide sizes.
But for right now, I have a well-designed rod to fish the flats. A rod that has been carefully matched with the reel, line strength and capacity, lure, and the size range of fish, and the different species I am apt to hook. Try getting all that out of an over the counter rod. I queried a major manufacturer about marketing my design, and he replied that fishermen on the Pacific Coast preferred longer handles. Precisely. Why fish with a rod designed by some guy in California who has never seen a snook?
Nor are my early designs collecting dust. Those first rods are ideally suited to trout, small reds, ladyfish, and those summer school sized jacks of a couple pounds. With six-pound test, those very light 8 ½ foot rods are just the ticket for Love Lures and gold spoons, and the gamut of trout lures.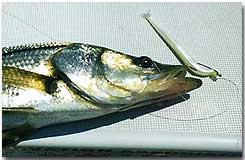 There is no such thing as a good all around rod in South Florida because of the great variety in fish size and species, and habitat, even if you don't go offshore. The rod you use for fishing bridge pilings at night needs to be very different than one you would fish on open water flats with small baits. And there is no better way around the dilemma, than a battery of custom-built rods, each perfectly suited to its intended task.
And now that I have my spinning rod design where I want it, I will turn my attention to a bait-casting rod for fishing residential canals and docks for wintertime snook – yet another case made for specialized, custom built fishing rods.