Nearby Georgia Mountain Retreat Offers Best Trout Fishing
By Bill Vanderford

With many travelers deciding to stay closer to home these days, the fabled Soque River that winds its way through Habersham County is the perfect choice for both fly fishermen and couples looking for a special place during the leaf season. One can constantly see the beauty of this gorgeous tributary while traveling along Georgia Highway 197 from Clarkesville to Lake Burton, but it is mostly untouchable.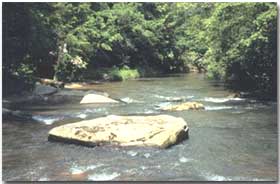 More than ninety percent of this fertile river, however, runs through private property. Therefore, the legend of this famous river and the tales of its huge trout continue to grow.
Thanks to a dream and the foresight of a beautiful, energetic young lady trying to find a secluded spot to take her away from the constant pressures of her job in the financial bastions of Wall Street, however, trout fishermen and romantic couples can now experience the solitude and majesty of the Soque River.
The place is called "Brigadoon", which encompasses an almost two-mile section of land and river that makes a big bend around a mountain adjacent to Highway 197. It is one of the most scenic stretches of the entire Soque River.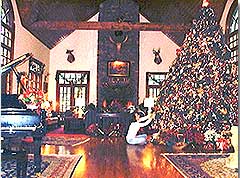 The lovely lady with the "crystal ball", who opened this paradise to visitors, is Rebekah Stewart. Though her original idea for this Blue Ridge Mountain paradise was to have her own secluded mountain retreat, changes in her life, the urging of friends, and her outgoing nature remolded her plans. This resulted in opening her section of the Soque River as a catch and release, fly fishing only stream where serious trout anglers could realistically have the chance of catching an over thirty-inch brown or rainbow in one of the most majestic settings in the eastern part of the United States.
Besides a pair of romantic suites in the lower part of her house, Ms. Stewart has added two gorgeous cabins. Visitors not only have almost two miles of the cascading waters of the Soque River to explore, but within a few miles by road are Lakes Burton, Rabun, and Seed, and an exciting private golf course. Numerous quaint eating facilities are also nearby. Few places on Earth offer anyone the chance to spend quality time in such breathtaking natural scenery as Rebekah Stewart's Brigadoon!
Call Rebekah Stewart at (706) 754-1558 for reservations or more information about Brigadoon.
Bill Vanderford has won numerous awards for his writing and photography, and has been inducted into the Freshwater Fishing Hall of Fame as a Legendary Guide. Find out more about Bill Vanderford on his website http://www.fishinglanier.com, or drop him an email at [email protected]