New Arm Support may help Anglers with Tendonitis and Carpal Tunnel Syndrome
By Bill Vanderford

Two health care professionals say a new arm support for fishing rods and nets could help people who limit their fishing or don't fish at all because of medical conditions like carpal tunnel syndrome and elbow tendonitis. Called Leverage-King, the arm support fits on rod and net handles and takes pressure away from the hand and wrist, redirecting stresses throughout the arm. The raised arm position also straightens the angler's wrist. Under pressure of fighting or netting a big fish, medical authorities confirm, this bend in the wrist can cause and aggravate those injuries.

Richard A. Istrico, M.D., Howard Beach, N.Y., a sports medicine specialist, and medical therapist Heidi M. Zierdt, LMT, recommend the new product to anglers to help prevent so called repetitive stress injuries and cumulative trauma disorders. Carpal tunnel syndrome and other cumulative trauma disorders like Guyon's syndrome and DeQuervain's tenosynovitis involve the hand, wrist, or arm. These disorders are characterized by tingling, numbness and, eventually, debilitating pain. They can occur when a person repeatedly moves the fingers, hand or wrist, causing tendons to flex and become irritated. Irritated tendons become inflamed and swell which puts pressure on the nerves. Istrico said active anglers are susceptible to these painful conditions because of repeated rod casting and the pump-and-reel action associated with landing a big fish. Like a brace, Leverage-King helps keep the wrist straight and reduces the possibility of irritating the tendons or causing them to come in contact with a nerve.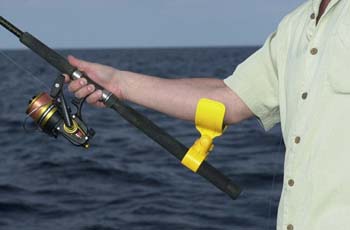 Anglers are also susceptible to disorders such as intersection syndrome and elbow tendonitis. Intersection syndrome occurs when two sets of tendons rub against each other during heavy and repeated movement of the wrist. Elbow tendonitis is often called tennis elbow but the diagnosis and the pain affects anglers as well. This condition is a tearing and inflammation of the tendons of the outer elbow. Tennis players get it from vigorous backhand strokes. Anglers can get the condition by repeatedly casting with a lot of snap in the elbow.
Leverage-King has a suggested retail price of $24.95 and comes with a 30-day money-back guarantee. For more information and to order Leverage-King, contact Mic Mac Products, Inc., 30-05 Whitestone Expressway, Flushing, NY 11354, 866-564-2622 (tollfree), email [email protected]; URL: www.leverageking.com
Find out more about Bill Vanderford on his website http://www.fishinglanier.com, or drop him an email at [email protected]