Fly Fishing with Doug Macnair Product Updates : Scientific Anglers Latest Goodies
By Doug Macnair

Better than ever: the System "X" Fly Box. Ever since it was first introduced, I've enjoyed both the concept and construction of the System X fly box system. It is convenient, flexible, versatile, waterproof, well made, and lightweight. In short, the System X system is a way for even the most disorganized fly fisher to organize, carry, and store his or her flies – in other words, they had me in mind when it was designed.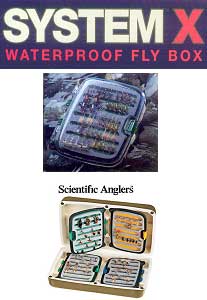 Why do I like it? Several reasons come to mind: (1) I like the fact that it is waterproof and lightweight; (2) I also like the concept of a two-sided box with its transparent lids enabling fly identification at a glance; (3) Add to this the fact that the inserts are not only removable but interchangeable and you've got something going for you in the way of versatility; (4) Finally, you can buy the System X parts just about anyway you might like -- entire box, or spare inserts, or an empty case. Then, too, there is the System X suitcase. Very light in weight, it safely carries or stores up to four loaded inserts – from streamers, to wets, to dries, to midges and nymphs. Neat? You bet! System X enables the fly fisher to preload inserts for the next round in the ongoing battle with Friend Fish.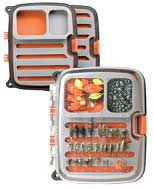 What's new this year – A System X box for nymphs. It, like its brethren, contains a removable insert that carries not only a battery of deadly nymphs but the strike indicators and split-shot as well. All three are neatly separated from each other and, because of the inserts design, are guaranteed to stay that way. In short, it makes for one mean nymphing machine.
I can tell you one thing; the Ancient Fish Gods do not like the Scientific Anglers new Nymph box. They much prefer fly fishers who do not have it all together – folks who tend to be a bit like me – folks who leave the right fly in the wrong box, or who can't find the split-shot container and/or the spare strike indicators. Sound familiar? Been there; done that! Every time that happens, it's advantage Friend Fish.
No doubt about it, the System "X" box is a great innovation that keeps getting better and better. If you haven't taken a close look at one, you are missing a bet. With its wide array of components, the System "X" is affordable and likely to last a lifetime.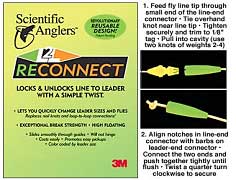 The L2L Reconnect Leader System. It wasn't so long ago when I reported my views on the then new Scientific Anglers System L2L (Leader to Line) connectors. I liked it then and I still like it today; in fact I presently have six lines equipped with the L2L and have yet to experience a problem…
That said, now comes Scientific Anglers with yet another improvement to the L2L – interchangeable leader connectors configured for 3X through 6X. It takes but an instant: lock and unlock with a simple twist. (Take that you nail-knoters.) The advent of the replaceable reusable L2L Reconnect is without a doubt a timesaver on the water.
What do I think? Quite honestly, I think the L2L Reconnect system is extraordinary. Realizing that many of you are fans of the ubiquitous nail knot as the perfect way to join line and leader, allow me to ask this question, have you ever watched your "nail knot" connection sink into the surface film dragging along the tip of your high cost floating line? I have! Use the new Reconnect system and that that won't happen -- the connector floats. Then, too, the connector also serves as a mini strike indicator when nymphing and does this job very well.
One more point to consider: I don't know how many of you have had a nail knot fail, but I have! The fallacy of the nail knot is the way it is tied – it wraps around the line and grips it exactly like what I used to call "Chinese handcuffs." Eventually the wrapping cuts through the line's PVC coating, hits the mono core, and is gone in a heartbeat. Many fly fishers now tie two nail knots, but if two is better, why not three? No, I am not a fan of the nail knot. With the advent of the L2L Reconnect System, I celebrate its demise except for a far, far, better purpose -- Knotting Nails.
Allow me to add another interesting point: I am of the opinion that with the lighter weights of 2, 3, and 4, the Reconnect system will improve the cast of many fly fishers. The Reconnect offers the smoothest turnovers I've ever thrown. I attribute this to the wonderful transition of power between line and leader that so many of us fail to achieve with our knots, coatings, and loops.
If this sounds good, it is! Tight loops and an increase in accuracy are always welcomed by even the most seasoned fly fisher. Promise me this: don't be afraid to try the L2L. It won't hurt a bit … and when you find it works far better than you ever thought it would, don't thank me – instead, pass your regards to Scientific Anglers.
Believe me, whether an expert or beginner, the L2L Reconnect has something to offer almost any fly fisher interested in such things as simplicity, reliability, and versatility. The L2L Reconnect system is a great step forward in fly fishing technology.
Is there a problem with the new L2L Reconnect? You bet! Right now the L2L Reconnect is engineered for lines up to 7-weight. Down the line, who knows; but, I've got a hunch the heavyweight L2L Reconnects are in the wings -- at least I hope so.
For more information regarding these and other fly fishing accessories, contact: 3M Scientific Anglers, 3M Center, Bldg. 223-4NE-05, St. Paul, MN 55144-1000. Telephone: 1-(800) 430-5000.