Blue catfish receives world record status from the IGFA


DANIA BEACH, Fla. --- The International Game Fish Association (IGFA), the organization which among its many duties maintains world records for both freshwater and saltwater game fishes, has approved a 124 pound blue catfish caught in mid May by Tim Pruitt of Alton, Ill.

Pruitt and the catfish, which was caught in the Mississippi River, received a great deal of media attention throughout the nation and internationally as well.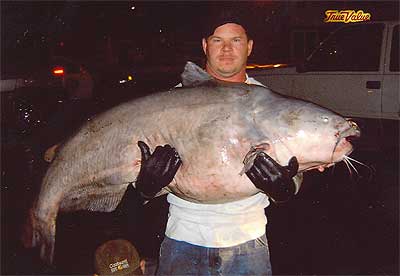 Using cut herring for bait, Pruitt took 40 minutes to land the catfish. Efforts were made to keep it alive for a new home in a glass tank for public display but it died several days later. According to June newspaper reports, Pruitt hoped to have it mounted and put on loan to the nearby National Great Rivers Museum in East Alton, Ill.
Two weeks after the catch, Pruitt sent in the required IGFA application, which included certified weight documentation, witness statements, photographs and line sample.
The IGFA certified Pruitt's catfish for two new records; an all-tackle world record for the heaviest species caught and a freshwater 50 pound line class. Pruitt's fish broke the all-tackle record by three pounds over a 121 pound blue catfish caught in Lake Texoma, Texas, by Cody Mullennix in January, 2004. His 50 pound line class record bested a blue catfish caught in 1999 by Bruce Midkiff at the Cannelton Dam on the Ohio River in Kentucky.
If Pruitt's catch stands through 2005 it will be further recognized in the IGFA's World Record Game Fishes annual which will be released worldwide in January, 2006.
Founded in 1939, the IGFA is a not-for-profit organization committed to the conservation of game fish and promotion of responsible, ethical angling practices through science, education, rule making and record keeping. IGFA members are located in over 125 countries and territories. The IGFA welcomes visitors to its 60,000-sq.ft. interactive Fishing Hall of Fame and Museum at its headquarters in Dania Beach. The IGFA web site is www.igfa.org.