Fly Fishing with Doug Macnair: The Fly Reel - Fact & Fantasy: Part 3©
From his manuscript, Fly Fishing for the Rest of Us

As I alluded to in the discussion of the Abel reels, the actual weight of a fly reel is something you should not overlook in the selection process. As with most things in this sport there are some not agree; they argue the weight of a fly reel really isn't very important in the overall scheme of things. Of course, in this context I haven't the foggiest idea how to quantify the word, "very." Let me simply suggest that a few hours of wind fighting on the flats with a rig that balances forward of the casting hand is apt to put you in my camp.

The weight of a fly reel is important. When fitted to the rod the reel becomes the deciding factor as to whether or not the rig - that's the combination of rod, reel and line - balances in the casting hand. "Balance" is the term I use when explaining it's usually best to distribute the weight of the rig equally to the front and rear of the casting hand. Otherwise, the arm and hand will tire. Said another way, the fly fishing rig is nothing more than a teeter-totter, and this teeter-totter works best when it balances where your hand grips the rod. With the advent of graphite and the pursuit of rods of ever-lighter weight, it follows that the weight of the reel has gained importance, at least in the eyes of the manufacturer, if no one else. That sort of explains the increasing number of holes found on the typical fly reel.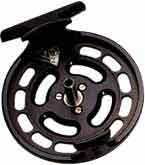 Everyone seems to have seen the light. Abel, for example, now offers the tried and proven "Big Game" series in two formats: "standard" and "ported." Ported means holes have been drilled in the frame to remove metal. A sufficient number of holes mean some weight reduction; it also means higher cost. Having previously mentioned the Abel 1, review this comparison between the two formats: The standard Model 1 weighs a cool 7 ounces and lists for $460.00; on the other hand, the "ported" version of the same reel weighs 6.55 ounces and lists at $520.00. If my math is correct, this means an extra 60 bucks buys less than one-half ounce in weight reduction. Weight is costly! Little wonder many consider fly fishing a sport for the rich.
Direct-Drive Reels.
The reels mentioned thus far are direct-drive fly reels. Reduced to simple words, this means that when the line is pulled from the reel, the handle and spool turn. The direct-drive remains the classic design, an approach as old as the fly reel itself, and it is certain to remain popular well into the future. Against this backdrop, there are many other quality direct-drive fly reels. Some are newcomers and others have been around for a while. Consider these top-end reels: Scientific Angler's Mastery series, ATC's Stratos, STH/Cortland's series of machined cassette and/or orthodox reels, Ted Juracisk's Billy Pate series, and now, Fly Logic's Optimum. These are top-notch reels. There are others, of course; however, I do not have the time or money to evaluate the remainder. As you probably know, some manufacturers are more cooperative than others in making their products available for evaluation.


I am impressed with the ATC's Stratos reel. I've used it, demonstrated it, and praised it. For less money than Abel, the Stratos carries a lifetime warranty and a superb drag. The Stratos 350, designed for 7, 8, and 9-weight lines, weighs about the same as the Abel Model 1. However, it carries considerably more backing, conventional or otherwise. With a lifetime warranty for repair or replacement and a fair charge for extra spools, what more can a fly fisher ask? If it is a smoother drag, I doubt one will be found. The Stratos spool rides on a huge roller bearing. The drag is propriety, of course, but it has to be space age. Is overcoming inertia a problem? No! As an aside, the story of how Stratos came into existence is interesting. It seems that the CEO of ATC, an ardent fly fisher, concluded no one built a fly reel that satisfied his expectations. The result is a reel finely machined and engineered that works the way he thinks a fly reel should. I think the story says something worthy of note.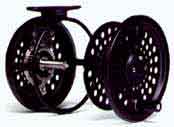 Scientific Angler (SA) has, for a number of years, marketed their System series of reels, delighting the vast majority of their owners. Affordable to all, SA's System 2 caliper-disc reels have proven their worth in fresh and salt water resulting in a track record of excellence. Now, Scientific Anglers goes one step further. For 1998, the entire line of the System 2 series has been re-designed promising even greater happiness. The revised editions are lighter in weight and feature an improved polyurethane coating for even better corrosion and abrasion resistance.
My experience with the "System" reels suggests that they work well. Seldom have I heard of one failing. For the few that did, I doubt the problem could be attributed to the manufacturer. In case you are wondering, it's my opinion that the owner-operator of a fly reel incurs certain obligations at the time of purchase -- it's called preventive maintenance! With an even stronger stainless steel disc-drag mechanism, and improved tolerances in the machine finishing process, the new models should provide their owners with an even greater level of satisfaction.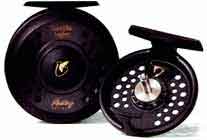 Perhaps of more significance, 1997 marked the year Scientific Anglers made a big move by stepping into the high-end circle of world-class performance reels with the Mastery series. After fully evaluating the Mastery 8/9, be assured it is a fine reel designed to do one thing -- meet the needs of the most discriminating warrior-fly fisher determined to tackle friend fish in hostile environs. It is not the prettiest reel I've ever seen, but each time I fish it, I am reminded of an old TV ad many will recall from Christmas' past. As I recall, the announcer would say, ". . . and remember friends, it really, really works!" The Mastery series does, and does it well. It's hard to imagine buying a better reel, regardless of how much money is spent. Keep in mind that gold inlays, etchings, and shinny sides have little to do with high performance under adverse conditions.
Mastery is a credit to Scientific Anglers' development process. The model I evaluated has a large DE4-X disc-drag fabricated from new-to-the-industry aviation carbon. All the DE4 reels feature a 4-ball bearing direct compression design using hi-tech pad materials. The drag is not only smooth, it dissipates heat quickly when friend fish heads out on a long run. Scientific Angler's lab tests have proven the drag exhibits only a 3 to 4-degree increase in 200-yard runs at 22 mph. It lasted through the full 3_ minutes "burn-out" test at 30 mph. That's saying a lot! Try to think of the Mastery reels as a 4-wheel drive all-weather, all-terrain vehicle with sports car handling designed to be driven in hurricanes registering at least Force 10 on the Beaufort Scale. It's comforting to know that Mastery carries a lifetime warranty and is available in five models.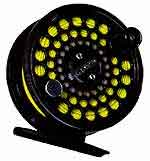 Also challenging for attention as a world-class fly reel is the all-new G. Loomis series of Syncrotech fly reels sized for 2 through 13-weight lines. Machined from aerospace solid bar stock aluminum, and built to resist corrosion, it's my understanding the micro-adjustable drags are smooth starting and built to handle big fish on light tippets. In fact, the two smallest Syncrotechs, the GL-2/3/4 and GL-3/4/5, have what Loomis calls the TSAD -- that's Loomis talk for their unique Tippet Saving Startup Drag. Without question, the Syncrotech reels have the look of quality with their high gloss finish and laser-etched G. Loomis logo. They are light in weight and feature corrosion-resistant Teflon-sealed stainless bearings and hardware. The GL-11/12/13 for example weighs in at just 10 ounces. For a reel designed to carry 11 through 13-weight lines, is indeed lightweight. This model, as well as the GL-8/9/10, possesses large arbors that retrieve line at high speed. More on large arbors later. Finally, the G. Loomis reels built for the heavier lines feature a cork disc-drag system and are saltwater maintenance friendly. G. Loomis claims all five of the reels in the Syncrotech series are superior to reels costing twice the price. I have yet to fish a reel of this series, but based on the performance of other G. Loomis products, I would be the last to dispute the claim. There is a Syncrotech for almost any need -- ranging from 2 through 13-weight lines.

Also relatively new to the scene and a proven welcome to the greater fly fishing reel community a new company: Fly Logic, Inc. introduced their series of direct-drive fly reels known as the Optimum and Premium. I have news for you -- pick up an Optimum just once and a glance will tell you've arrived at the high-end. A reel is fully ported, and at no extra cost. It is machined to very close tolerances and possesses a superb drag. As you might expect, overcoming inertia isn't a problem. With a lifetime warranty, what more can you ask?
The world of fly reels is crowded. The marketplace is full of fly reels, most of excellent quality. So why would anyone want to enter a competitive arena already overloaded with players? Good question! It seems the story began with several young men independently wandering around the country fly fishing. Each was an avid fly fisher and each possessed business, marketing or engineering talent. While none knew of the existence of the others, fate, it seems would bring them together because of a dream -- that dream hung on the question, What if? What if a fly reel could be built that truly excelled in performance at a price "every man" could afford? And so it was that very different these people began to bump into each other and discover the dream they shared in common. First in Nashville, where two of them met; then in the high country of Colorado, where yet another team member was discovered. In the end, or the beginning as it is, the little group collectively ended up in the place where their dream became a reality -- that place is Melba, Idaho, the home of Fly Logic reels.
As I have previously said, the story reminds me of the very old soap from the 40's that went by the title, "Our Gal Sunday." The Soap asked the poignant question: "Can this girl from a the little mining town in Colorado find happiness as the wife of the world's wealthiest man, Sir Henry Brenthrip?" Substitute words and the question becomes: "Can this company from the little town of Melba, Idaho, find success and happiness in the world of fly reels?" I leave the answer to you. Gaining name recognition on a crowded playing field is a tough proposition. But, if you are looking for a quality reel to fish with pride, look at the Optimum series at approximately half the cost of an Abel.
On the lower end, I don't know of a better value than the Premium series. It combines the feel and performance of a machined reel, along with a very smooth centerline disc-drag system usually found on reels costing a great deal more. The housing is corrosion resistant 383 aluminum, and that means it is saltwater ready. After 3 years of salt experience, I should think anyone who doubts the quality would give me the courtesy of a call. Both Fly Logic series carry a lifetime warranty. For a change, spare spools are affordable. (More on this a little later.)


Sometimes, little is better. I thought you might like to see a little reel that I love. Every time I head out for small confined waters, the little reel rides on the reel seat of a very special 6-foot graphite rod. I thought you might like to see it. Frequently, I'm asked if it is a play toy. I simply reply, "No, it a Ryall, Jr." Far from being a toy, it is a top quality fly reel, as are others I've seen from J. Ryall. Yes, it has a drag, and yes it's smooth. No, it will not stop the run of Jaws, The Great White. If you fish little waters, look for a quality "little" reel. Not only are they a lot of fun, but you will not have to spend a lot of money on backing. On a little reel, I try to put on 20 yards or so of 10-pound backing for no other reason than to cushion the fly line.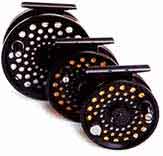 Returning for a moment to the Lamson reels earlier mentioned, I would be remiss if I failed to point out the wide range of sizes available in the caliper-disc LP series. Ranging from the LP-1 through the LP-5, Lamson covers the water with reels designed for lines from 1 to 12-weight. Depicted here are the Lamson LP-4, 2 and 1.5. I've fished the Lamson LP-4 in the salt for several years with lines ranging from 8 to 10-weight with total satisfaction. My wife fishes the LP-1.5; she loves it! Machined from bar stock aluminum with a tough anodized finish, I've yet to hear any but one Lamson fly fisher complain about reel performance. The truth is the reels' reputation for endurance and reliability has made Lamson a best-seller in the world of fly reels. Perhaps that begins to explain why Lamson was bought out by The Waterworks.
The discussion of "Fly Reels: Fact and Fantasy" continues with Part 4. Until then, God Bless You.