Keep Your Catch Alive with Oxygen
Fish Oxygen Concentrators for Baitfish, Fishing and More
WHAT: The FishOx unit is a state of the art oxygenation system delivering 90% oxygen to live wells and bait tanks eliminating the need of high pressure oxygen cylinders.
WHY: The FishOx System was developed to reduce mortality rates in fresh and saltwater in baitfish and sport fishing.
APPLICATIONS: Perfect for oxygenation needs including Bass, Inshore, Offshore Boats, Bait Tanks, Bait Transporters, Tournament Holding Tanks and Fish Farms.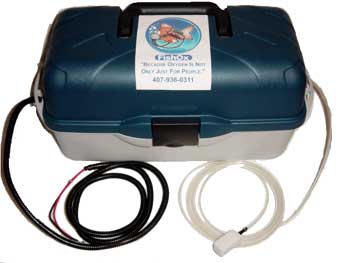 TECHNICAL SPECIFICATIONS: FishOx Systems, Inc., FishOx and FishOx2 are Patent Pending oxygen generation systems. The systems are 12 Volt DC 3 Amp powered and generate oxygen by compressing outside air consisting of 21% oxygen, through a series of components which, separates the oxygen from nitrogen and other minute gases. Aerators and other similar products in use today on or off boats can provide only air, not concentrated oxygen. The FishOx is portable and can be used on or off the boat as well as can be used for holding tanks during tournament weigh-ins. The FishOx2 is a boat mounted panel system used on offshore fishing boats with larger live well capacities. Using the FishOx System allows the sport fisherman to contain at a minimum, double the amount of bait fish and up to four times depending on the size of bait fish and condition of the water.
ABOUT FISHOX SYSTEMS, INC.: FishOx Systems, Inc., was founded with 30 years of experience in the medical oxygen respiratory field and is committed to the conservation of sport fishing. Our products can dramatically enhance and improve the boating industries' on-board aeration and live well technology.
OTHER SERVICES: We can private label or design and manufacture specialty units to meet our customer specifications and applications. We also provide educational seminars on how to get the best use from your FishOx System in your particular application.
OUR MOTTO: To make a difference in doing our part of conserving the future of fish and the future of sport fishing. The conservation of today is the future of tomorrow.
FishOx Systems, Inc.
223 Hickman Drive
Suite 101
Sanford, Fl. 32771
(407) 936-0311; (407) 322-5372 fax
Visit our web site: www. FishOx.com
[email protected]

CONTACT:
Pete Ellis
(407) 936-0311 (day)
(407) 322-5372 (fax)

---

For purchasing details, please click here to see the Fish Oxygen Concentrator System For Baitfish in the LandBigFish.com Tackle Store.