Georgia's Ten Most Interesting Places to Visit During the Fall
By Bill Vanderford

As the summer sun begins to drift more to the south, a change in the morning and evening air temperatures will be evident. This cooler air will slow the flow of sap in the trees and more pine needles and leaves will be seen on the ground. The changing seasons and the kaleidoscope of gorgeous colors that go with this natural metamorphosis is a special gift for those who love to explore the North Georgia Mountains and foothills. Therefore, I have put together an eclectic list of ten interesting places to visit that would enhance anyone's sojourn into Georgia's Blue Ridge.

SMITHGALL WOODS PRESERVES GEORGIA'S MOUNTAIN PAST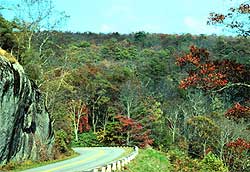 The short drive from the main highway along the cascading waters of Dukes Creek to The Lodge at Smithgall Woods allows a visitor the opportunity to view the pristine beauty of the Georgia mountains as they appeared before the onslaught of developers. Even the buildings that comprise The Lodge were built with thought and respect so that they blend naturally into the surrounding picturesque environment. In fact, the entire landscape of Smithgall Woods is like an artist's tapestry that is illuminated by sunlight filtered through a misty canopy of sheltering hardwood trees.
The 5,555-acre tract of prime mountain property was acquired by the state of Georgia in 1994 from noted conservationist and businessman Mr. Charles A. Smithgall, Jr. It was immediately designated as a Heritage Preserve under the State's Preservation 2000 Program, which is the highest legal assurance possible that the land will be used only in conjunction with strict preservation and conservation guidelines and that it will be maintained in its natural condition for present and future generations to enjoy.
Though hiking to the nearby Dukes Creek Falls and mountain biking are always an option at Smithgall Woods, Dukes Creek has been named by Trout Unlimited as one of the "Top 100 Trout Streams in America". The constant sounds of water cascading over rocks, birds singing, and trees swaying with the wind more than blot out any distant noises of civilization. Mix that with the smells of mountain laurel, rhododendron, and numerous hardwood trees, plus the visual feast of a gorgeous Blue Ridge Mountain setting, and no amount of money could give one the feeling of tranquility experienced at Smithgall Woods. If one wants to enjoy a stay at this beautiful place, however, reservations are a necessity, and they may be obtained by calling toll-free 800-318-5248 or 706-878-3087.
PORK AND POLITICS ARE ALWAYS ON THE MENU AT POOLE'S BBQ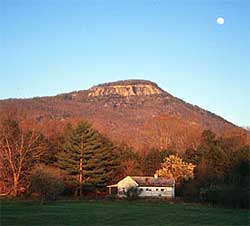 When Oscar Poole brought pork, politics and a bunch of plywood pigs to the Zell Miller Mountain Parkway, which runs through the sleepy, mountain village of Ellijay, he wasn't welcomed with open arms. To the contrary, many in the local population actually complained to the city elders, or just poked fun at his piggly ways. Old Oscar, however, knew how to make good barbecue, was already a staunch advocate of conservative, GOP politics, and the value of attracting attention with the "Pig Hill of Fame".
The entire slope behind his barbecue restaurant looks loosely like a graveyard, with hundreds of plywood pigs bearing people's names. Plenty of the pigs have easily recognizable names like Ludlow Porch, Pat Buchanan, Guy Milner, LeRoy Powell, and Rush Limbaugh.
"I've even got one Democrat up, there," admits Oscar Poole. Someone paid me to do one for Al Gore, so I put him on the left side of the hill and tried to hide him."
Barbecue and politics are a Southern tradition, but Oscar Poole's political pork cookery puts a new twist on the tasty, white meat.
Though he looks and often talks like just one of the "good ole boys", Oscar Poole is a retired Methodist minister with several college degrees, and an accomplished musician. In fact, he keeps an electric piano in his establishment and plays regularly for patrons.
Oscar actually started his restaurant in 1989, but due to both national and international publicity, it has become world famous in a very short time. In a way, he has Big Government to thank for the flash of inspiration called the Pig Hill of Fame that made this eyesore of a place world renowned.
"LBJ's wife, Lady Bird started all this," said Poole. "She made people take down their signs along the highways in her pet beautification program. So, to get around that, I started putting names of well-known people that visited on little plywood signs with a pig shape, and it became very popular. Now, everybody wants their name on one of the pig signs.
The whole thing with the "Pig Hill of Fame" is done all in fun, and the fact that it sells barbecue is great for Oscar Poole. The bottom line is that each day at lunch time his little barbecue place is crowded, and it's often hard to find a seat in his establishment on weekends or holidays. For Oscar, however, it's never strictly business, he likes to have fun, and wants to keep it that way. Nevertheless, for both an interesting experience and some of the Peach State's best barbecue, it's worth the short trip up I-575 to Ellijay to the "Pig Hill of Fame"!
"MARK OF THE POTTER" IS A NORTH GEORGIA LANDMARK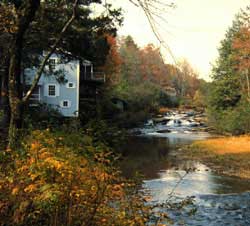 Any trip through the scenic Blue Ridge mountains of Northeast Georgia this fall should follow a course up Highway 197, through the village of Clarkesville, and up the winding road alongside the beautiful Soque River. This path leads one to a picturesque old grist mill that rests precariously along the edge of a deep hole in the river just below a cascading waterfall. Although it has the authentic look of the old mill, this place has been known for more than a quarter of a century as "Mark of the Potter".
It is a showplace and retail outlet for crafts and pottery from local artists, including expert potters who daily create the exquisite brand of pottery for which this unique establishment has become famous.
The actual mill was built during the 1930's by Allen Watts to fill a need to provide the local farmers a place to grind their corn into meal. It became known as "Grandpa Watts' Mill", and for more than three decades, ground farmer's corn "for the eighth", which meant the mill kept an eighth of the meal for payment of services.
Travelers still have their breath taken away when they come around the curve of Highway 197 and first gaze upon the foaming water of the tumbling falls and catch sight of the stately old mill. Former visitors and newcomers alike continue to marvel at the huge trout that swim in the big pool below the back deck, and never fail to purchase trout pellets to watch them feed. "Mark of the Potter" is a genuine Georgia landmark, and should be a planned stop on anyone's visit to the Northeast part of our state. It is located 10 miles north of Clarkesville on Georgia Highway 197. For additional information call (706) 947-3440.
TRAGEDY AND BEAUTY ARE INTERTWINED WITH TOCCOA FALLS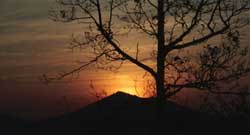 From below the misty cascade of water freefalling 186 feet into a deep pool that empties into a tiny stream lined with colorful wild azaleas and rhododendron, one would never imagine the dark side of this picturesque natural wonder. Nevertheless, in the wee hours of a rainy night on November 6, 1977, an earthen dam at the top of this breathtaking waterfall gave way, and one-hundred and seventy-six million gallons of water plummeted into the tiny valley below that is home to Toccoa Falls College! Thirty-nine people were killed, another sixty injured, and most of the college campus was destroyed.
Compassionate people from all over the world, who had never heard of Toccoa or the tiny Christian college, responded immediately with their money and their hearts. More than $3 million in funds and hundreds of volunteer workers poured into the little valley to help.
Because of that tragedy, the dam and lake were never rebuilt, and every effort has been made to allow Toccoa Falls to return to its natural state. It is 29 feet higher than Niagara Falls and truly one of the most magnificent waterfalls in the "Peach State". It certainly lives up to the name given by the Cherokee Indians, "Toccoah" , which means "beautiful".
The light passing through water that almost changes to an eerie mist before being consumed by the pool below has prism-like qualities that seem to hypnotize those who watch. Therefore, any visit to Toccoa or the almost 100 year-old college would be incomplete without spending a few memorable minutes gazing up at this miracle of nature called Toccoa Falls. For more information about Toccoa Falls, call toll-free 800-868-3257 during regular business hours.
THE NACOOCHEE INDIAN MOUNDS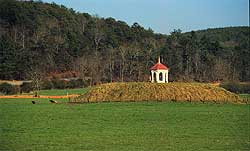 An old Indian mound stands at the junction of Highways 17 and 75, just south of Helen near the Chattahoochee River. It is a familiar landmark to many travelers, but a mystery to newcomers.
Legend has it that Indian lovers from opposing tribes are buried in this sacred place known as the Nacoochee Mound. The story relates that Sautee, a brave of the Chickasaw Tribe, and Nacoochee, daughter of a Cherokee Chief, fell immediately and hopelessly in love when a Chickasaw band stopped in Cherokee territory at a designated resting place. The two lovers met in the night and ran away to nearby Yonah Mountain to spend a few days together. When they later confronted Nacoochee's father with the idea of creating peace between the two nations, Chief Wahoo ordered Sautee thrown from the high cliffs of Yonah Mountain while Nacoochee was forced to watch. Almost immediately, Nacoochee broke away from her father's restraining hands and leaped from the cliff to join her lover. At the foot of the cliff the lovers dragged their broken bodies together and locked in a final embrace. The Chief, overcome with remorse, realized the greatness of love, and buried the lovers, still locked together in death, near the banks of the Chattahoochee River in a burial mound.
Though a very touching story, in reality, the Nacoochee Mound is an old burial site that was probably placed there long before the Cherokee Tribe inhabited the area. In fact, an excavation that began in 1915 unearthed 75 burials in the mound.
Graves were discovered at varying levels, showing that the burials took place over a number of years. Differences in artifacts found indicate a slight change in the culture, due possibly to the influence of civilization. Within the mound, none of the remains were preserved well enough to enable exact measurements of the bodies.
Since the Cherokee Tribe later used the mound as a site for their townhouse and ceremonial rites, they were obviously ignorant of the original purpose of the artificial hill. They also erected an estimated 300 dwellings in a village on the surrounding flatland near the river.
The Nacoochee Mound is located in White County, two miles south of Helen on property belonging to the L.G. Hardman Estate. Dr. Hardman was a former Governor of the State of Georgia. During the summer of 1980 Nacoochee Valley, in which the Mound is located, was placed on the National Register of Historic Places as a historic district. It is a beautiful place to see from the road during any season of the year!
DEER ARE THE REAL ATTRACTION AT RED TOP MOUNTAIN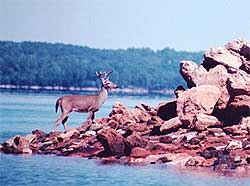 As the young buck stepped away from protection of the fall foliage to the nakedness of a rocky point on Lake Allatoona, he scanned each direction intently for any sign of danger. Though he made a magnificent sight standing alone on the tiny spit of land that jutted out into the blue-green waters, with the sun in his eyes, the elegant wild creature was unable to see a small group of deer watchers standing less than fifty yards away.
At most places in the Peach State, this sighting would have been rare, but not at Red Top Mountain State Park and Conference Center. Due to transplanted deer from the overpopulated Sapelo Island on the Georgia Coast, lack of hunting, and a deer feeding program, Red Top Mountain supports an overabundance of healthy deer. Therefore, deer watching has become a major attraction to this popular state-owned facility that is located just off Interstate 75 about 35 miles from downtown Atlanta.
So that visitors can more easily enjoy viewing these beautiful creatures, the folks at Red Top Mountain maintain several deer viewing areas near feeding stations. With so many deer in this 1950-acre peninsula at Lake Allatoona, however, it is difficult to visit this gorgeous state park without encountering numerous deer along the trails and roadways.
Many lovers of the outdoors come to Red Top Mountain for short getaways, or weekends, and utilize the more casual accommodations that include 18 cottages capable of housing 144 persons or the 90 campsites for tents, trailers, and RV's. Most of these sites have electrical and water hookups and offer easy access to tennis, swimming, hiking, boating, fishing, and deer watching.
Red Top Mountain was appropriately named for its rich, red soil, which was once mined for the iron ore content. This state park's picturesque beauty and abundant wildlife, plus its proximity to metro Atlanta, makes it a natural wonder that warrants visiting. For more information, call (770) 975-0055 (Red Top Mountain) or (770) 389-7275 (Georgia State Parks).
JACKS RIVER FALLS - A HIDDEN TREASURE IN THE WILDERNESS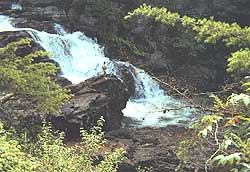 Viewing the Jacks River Falls for the first time takes one's breath away. The tremendous cascade of water rushing over the ageless boulders of the three distinct levels is almost deafening. Also, the rising mixture of water and air forms a mist that shrouds everything in a dreamlike fog. It is so captivating that visitors often stand as if in a trance while trying to mentally devour this magnificent work of nature.
Despite the physical exertion required to visit this Peach State wonder, the trip is worth every minute of the pain. The Cohutta Wilderness area and especially, the Jacks River provides, to those willing to pay the price, a wonderful opportunity to enjoy unspoiled nature at its best.
Though several ways exist to reach the Jacks River Falls, one particular path has proven to be fairly easy to follow, and can be accomplished in a day's hard hike if one is in pretty good physical condition. However, some food and a good supply of water should be carried to make the trip safer and more enjoyable.
From Forsyth, take Highway 20 North to I-575, which becomes Highway 515 at Nelson, Georgia and is called the Appalachian Parkway. Just beyond Blue Ridge, Georgia, travel north on Highway 5 toward Copper Hill, Tennessee, then shortly turn west onto old Highway 2, which soon became a gravel road as it climbs ever upwards. At Watson Gap, turn right on Forest Service Road 22, which continues several miles to the parking area at Dally Gap.
Depart Dally Gap on the Hemptop Trail, which winds down out of Tennessee and intersects with Penitentiary Branch Trail about 2.5 miles from Dally Gap. Penitentiary Branch Trail then descends some 3.3 miles into the Jacks River canyon.
During the first two miles of the jaunt, the trail follows an old logging road. Though it ascends steadily, the path is wide and the rise gradual. The downhill section follows Penitentiary Branch down to the juncture with the Jacks River. From there, it is roughly 1.5 miles downriver to the Jacks River Falls.
The path to the Jacks River Falls is loaded with history. Portions of the Jacks River Trail along the river are on the roadbed of the old Conasauga Railroad, which was a narrow-gauge railway built to bring out felled logs from the timber camps up in the mountains during the logging days around the turn of the century.
The loggers would cut the chestnut trees all week while staying at the camps, then ride the train back down to a small village at the juncture of the Conasauga and Jacks Rivers on the weekends. The town was called Shamble's Mill, and was located in the Alaculsy Valley.
During a hike along the Jacks River Trail, one can actually walk on some visible sections of the old cross-ties made from American Chestnut trees, which have resided there for at least 75 years. The American Chestnut trees disappeared from the Georgia mountains during the 1920's and 30's because of a blight that killed them.
Near the falls, one will probably encounter campsites and other hikers. Most of these hikers come in from Tennessee on the popular Beech Bottom Trail, which is approximately 3.5 miles from its Tennessee state line beginning. Instead of taking the shorter but more rugged Hemptop Trail, they chose the Jacks River Trail, which follows Bear Branch down to the intersection with the Sugar Cove Trail at Lost Cove Branch. Despite being a much easier trail to traverse, the Jacks River Trail is almost 11 miles long and has 44 river crossings up to waist-deep before one reaches the Jacks River Falls. Nevertheless, many pure backpackers prefer that trail because of the easier walking on fairly level old logging roads.
Though the scenery is breathtaking, a jaunt into the Cohutta Wilderness and the Jacks River Falls should not be attempted by those with small children or any physical problems. Despite the other friendly hikers you might encounter, you'll be a long way from any help should a problem arise. Nevertheless, if you're up to it, the Jacks River Falls is one of Georgia's most picturesque places!
FALL IS EASILY VISIBLE FROM GEORGIA'S HIGHEST MOUNTAIN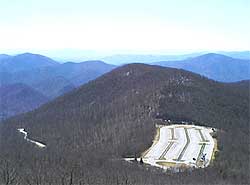 The dense vegetation that covers Brasstown Bald, which is Georgia's highest mountain, comes alive with brilliant colors during the fall leaf season, and on a clear day, one can see beauty in every direction. The path to this Peach State wonder, however, would impress even the most seasoned mountain driver because of the steepness of the winding road that ascends to near the top of this pinnacle. Even more formidable is the half mile of trail that cuts a path through the thick foliage from the parking lot to the top of the mountain.
Nevertheless, if one is physically fit enough to reach the top, a National Forest Service visitor center complete with exhibits, slide programs, and an observation tower await atop the 4,784-foot summit. Here, visitors have a 360-degree view across miles of mountain ridges and lakes into four states. Though fog and low clouds are often a problem on top of Brasstown Bald, if one is lucky enough to reach the summit on a good day, the view is breathtaking!
The parking area is as far as automobiles are allowed to travel, but actually, several steep hiking trails lead to the tower, and for a small fee, during most months, Mini-buses depart every few minutes for those who would like to ride to the summit.
This picturesque place is a Georgia landmark that would enhance anyone's itinerary, and is a great one-day trip from Forsyth County. It offers one of the finest vistas in the Peach State, and affords one a unique experience while visiting the North Georgia mountains.
Brasstown Bald opens seven days a week through the first week in November. From south of Blairsville, go east on GA Highway 180 to GA Highway 66 north to the parking area.The visitor center phone is (706) 896-2556.
NEARBY CLARKESVILLE IS A FALL PARADISE
Situated in the higher foothills of the Blue Ridge Mountains, the stately old town of Clarkesville seems to either have or be close to a multitude of interesting places. In fact, Clarkesville is only a few miles away from six state parks, two National Forests, and five natural waterfalls. Located just twenty miles from the Appalachian Trail and fifteen miles from the Alpine village of Helen, Clarkesville is centrally located enough to be the perfect "home-away-from-home" for exploring Georgia's northeast mountains during the fall "Leaf Season."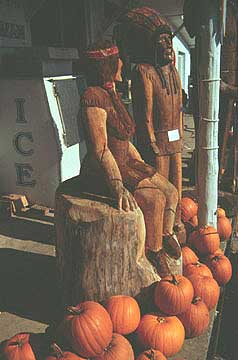 Just north of Clarkesville, Brigadoon is a breathtaking place along the fabled Soque River. It is the perfect choice for both fly fishermen and couples looking for a special place during the leaf season. One can constantly see the beauty of this gorgeous tributary while traveling along Georgia Highway 197 from Clarkesville to Lake Burton, but it is mostly privately owned and untouchable. Therefore, the legend of this famous river and the tales of its huge trout continues to grow.
Thanks to a dream and the foresight of a beautiful, energetic, young lady trying to find a secluded spot to take her away from the constant pressures of her job in the financial bastions of Wall Street, however, trout fishermen and romantic couples can personally experience the solitude and majesty of the Soque River.
Brigadoon encompasses an almost two-mile section of land and river that makes a big bend around a mountain adjacent to Highway 197. It is one of the most scenic stretches of the entire Soque River.
The lovely lady with the "crystal ball", who opened this paradise to visitors, is Rebekah Stewart. Though her original idea for this Blue Ridge Mountain paradise was to have her own secluded mountain retreat, changes in her life, the urging of friends, and her outgoing nature remolded her plans. This resulted in opening her section of the Soque River as a catch and release, fly fishing only stream, where serious trout anglers could realistically have the chance of catching an over thirty-inch brown or rainbow in one of the most majestic settings in the eastern United States.
Besides a pair of romantic suites in the lower part of her house, Ms. Stewart has added two gorgeous cabins. Visitors not only have almost two miles of the cascading waters of the Soque River to explore, but within a few miles by road are Lakes Burton, Rabun, and Seed, and many other attractions. Few places on Earth offer anyone the chance to spend quality time in such breathtaking natural scenery as Rebekah Stewart's Brigadoon, but reservations are necessary. Call (706) 754-1558 for reservations or more information about Brigadoon.
In Clarkesville's historic district, one will find the Burns-Sutton Inn, which is a Victorian bed and breakfast inn that was built in 1901 and completely restored in 1985. This large three-story inn contains seven sizable rooms filled with period and antique furnishings. The old house is listed on the National Register of Historic Places, and has many fine architectural details that allow a visitor to mentally drift back to the golden finery of the Victorian age.
Lodging guests at the Burns-Sutton Inn are offered special rates on championship golf at Clarkesville's premier country club, and on horseback riding packages. Other activities like hiking and biking are also easily arranged by the inn. One call to Jaime Huffman, who is the host and owner of the Burns-Sutton Inn, can provide one with a multitude of information about other interesting things to do and see in the vicinity of Clarkesville. She can be contacted at 706-754-5565.
A few miles northeast of Clarkesville, a more than two-hundred year old oak, covered with a heavy, green coat of resurrection fern, stands like a sentinel as one leaves the pavement of Shirley Grove Road onto the red clay of Bear Gap Road en route to the meticulously restored Glen Ella Springs Inn. Like the old inn and the famous spring, this ancient tree has seen a lot of weary travelers from Indians to modern tourists.
Most of the land in the vicinity of the springs was originally owned by Cherokee Indians. In fact, the actual site where the Glen Ella Springs Inn now stands was part of a 600-acre tract awarded in the 1830's to Glen and Ella Davidson as part of the great Cherokee land give-away.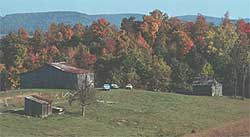 Not much was done with the land, however, until the family's homeplace was constructed on the site in 1875. That original building was expanded in 1890 and again in 1905 to take in paying guests. Many of these visitors were wealthy families from coastal Georgia who summered in the mountains to escape the hot season's yellow fever plague.
Guests usually arrived in nearby Turnerville via the Tallulah Falls Railroad, and would be personally greeted by Glen Davidson. He would then transport them to the inn in his horse-drawn buggy.
Today, the sixteen room inn and its gourmet-style dining room are drawing guests from around the Southeast as well as across the country. Reservations and more information are available by calling (706) 754-7295.
Clarkesville is an extremely worthwhile place to visit, and the entire sojourn can be made in a weekend. This North Georgia town was the first resort community in Georgia. It is a great place for peace and quiet in a laid-back, gorgeous mountain setting during the fall season.
"THE TRAIL" HAS ITS BEGINNINGS IN GEORGIA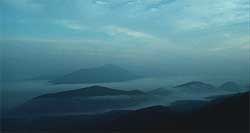 Long before I was old enough to appreciate the Appalachian National Scenic Trail, my dad and I had crossed this national treasure many times while searching for trout in the North Georgia Mountains. Though quite rugged in many places, "The Trail" is always a thing of beauty during the fall of each year here in the Peach State.
For those hardy souls who attempt the more than 2,100 mile journey along the crest of the Appalachian Mountains, they normally begin at Springer Mountain near Jasper, Georgia. From that point, their sojourn will take them through fourteen eastern states before ending at Katahdin in Maine.
Georgia's part of the Appalachian Trail winds some eighty miles along ridge tops and through rather primitive areas of the Chattahoochee National Forest. The average altitude is around 3,000 feet, but the trail reaches above 4,400 feet in places. The climb and descent can often be steep, and each section of this trail offers a variety of challenges to hikers. Nevertheless, one is constantly rewarded by breathtaking vistas from high rocky outcrops or open summits.
The Appalachian Trail was built and is maintained by volunteers from each of those fourteen states for the enjoyment of everyone. It is well-marked throughout its length with rectangular white blazes. Side trails or trails to water have blue blazes, and turns in the trail are marked with double blazes as a caution to hikers. Signs are placed at road crossings, shelters, or other important intersections.
Georgia's part of the trail has eleven shelters, and all but one are three-sided with open-fronts. Each has a floor, and spring water is readily available. The one exception is a stone, two-room structure at the top of Blood Mountain. It has four sides, a fireplace, windows, a sleeping platform, but no water close by.
The Appalachian Trail in Georgia can be reached from six major highways, which the trail crosses at their highest point. An 8.5 mile approach trail is located on Highway 52 at Amicalola Falls State Park, which is fifteen miles northwest of Dawsonville. The trail crosses Woody Gap on Highway 60 fifteen miles north of Dahlonega, but just twenty-two miles north of Dahlonega on Highway 129/19, is the most interesting spot to join the trail. Neels Gap is below the summit of Blood Mountain, and has one of the most complete hiking and backpacking stores in the eastern U.S. It also features books on every aspect of the Appalachian Mountains or "The Trail" and offers a wide array of souvenirs.
Other places to intercept the Appalachian Trail in Georgia are at Tesnatee Gap and Hog Pen Gap on Highway 348 (Richard Russell Scenic Highway) twelve miles northwest of Helen, Unicoi Gap on Highway 75 ten miles north of Helen, or Dicks Creek Gap on Highway 76 eighteen miles west of Clayton. Short day trips from any of these convenient crossings of the trail can be very invigorating and educational. The real beauty of the Appalachian National Scenic Trail, however, is the constantly changing, but magnificent, bounty of nature that is revealed to those who take the time to traverse this phenomenal wilderness path. No classroom or TV show can compare with the sights and sounds of this natural, living panorama. Therefore, youngsters always leave with an indelible memory of even a short hike along this historical path during any time of the year.
Bill Vanderford has won numerous awards for his writing and photography, and has been inducted into the Freshwater Fishing Hall of Fame as a Legendary Guide. He can be reached at 770-289-1543, by email at [email protected], or at his web site: www.fishinglanier.com