Nostalgia and Bass at Lake Seed
By Bill Vanderford

The triangle of land and water contained within lines drawn from Clayton to Hiawassee to Clarkesville hold an abundance of special memories. Even before I was born, the area affected my future. During their courtship in the 1920's, my dad and mom would often stir the summer dust along the unpaved roads that led from Cornelia to the cool, clear waters of lakes Burton, Rabun, and Seed.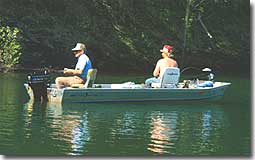 Many times during my youth, the then game warden and later Sheriff of Rabun County, Chester York, would tag along with me as I stalked trout on the Coleman and Tallulah rivers, which are the main headwaters of lakes Burton, Rabun and Seed. My dad and I often fed wild deer and other animals at Bobby Carnes's cabin on Moccasin Creek, and camping trips with Dad and my Uncle Bob Moon on Wildcat and Dicks creeks sometimes ended with a foray to the upper part of Seed Lake, below the dam at Lake Burton, to battle trophy-sized rainbow trout.
Though time has distanced me from these beautiful surroundings and many who shared those experiences with me have departed this life, those wonderful times are forever etched in my memory. Therefore, when an old fishing buddy invited me to spend a couple of days fishing with him at Seed Lake, I jumped at the chance.
From the Lake Rabun turnoff near Lakemont, Georgia on Highway 441, time seems to have stood still. The narrow pavement follows the intricate path of the Lake Rabun shoreline past unique lake homes that have weathered more than fifty winters. Beyond Rabun Beach Park is the Nacoochee Dam, which was built in 1926 to sandwich the 240 acres of Lake Seed between lakes Rabun and Burton. About a mile north of the dam is the Lake Seed Boat Launch.
Upon venturing out into the lake, one quickly realizes that current is present. In fact, Lake Seed is actually more like a wide river running between lakes Burton and Rabun, which becomes swifter when water is released at the dam. The constant flow of cold water and food through the lake, however, allows Lake Seed to support several different species of gamefish.
Though shad populations are good, the main sources of food for predator fish like bass, trout, and pickerel are small yellow perch, sunfish, and crayfish. In fact, yellow perch are so numerous, Georgia Game and Fish biologists have experimented with hybrid pike in the past to decrease their numbers.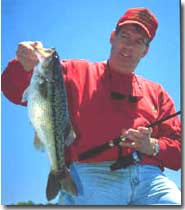 Since Lake Seed is a smaller, river-type impoundment, bass fishermen find it easier to read than larger lakes. The cold flowing water restricts most bass to the warmer areas of shallow coves or shoreline structures, so few bass are caught below twenty feet.
Normally, a bass angler has only to seek out visible structures like blowndown trees, boat docks, or rock formations away from the main flow of water to be successful. Both largemouth and spotted bass tend to use those places as their home and a point of attack for food.
For me, the deadliest lures for both largemouth and spotted bass in Lake Seed are the swimming grub on a 1/16th ounce leadhead jig and the 1/8th ounce Swirleybird. Cast either of these lures around any structure or simply along the banks and swim them slowly. When a strike is felt, either give a little twitch or reel faster to set the hook. These diminutive lures will produce a multitude of bass and other species.
Besides the great bass fishing, this beautiful mountain impoundment supports a healthy population of bluegill and redbreast sunfish that are large enough to attack many of the bass offerings. Also, the swimming a grub is sure to produce plenty of big "slab" crappies, especially around the many boat docks, blowndown trees, and brush piles. Other than the bass, however, the most fun is an occasional vicious attack by a big "jackfish", which is actually an eastern chain pickerel. Farther up the lake near the dam at Lake Burton, small spinners or live nightcrawlers will often lure a big rainbow or brown trout out of hiding to do battle in the faster water.
Though a small lake that certainly can't accept tremendous fishing pressure, Lake Seed offers an escape from the norm. It's a place where one might catch more than fifty fish of several different species during a single outing, and enjoy the beauty and serenity of the Blue Ridge Mountains. Visiting anglers should remember that this pristine area has a delicate environmental balance. Practice "catch and release" as much as possible, show respect for the local residents and their property, and leave the area as clean and beautiful as it was found. Places like Lake Seed need to be preserved to show future generations a glimpse of the past!
Bill Vanderford has won numerous awards for his writing and photography, and has been inducted into the National Freshwater Fishing Hall of Fame as a Legendary Guide. He can be reached at 770-289-1543, [email protected], or at his web site: www.fishinglanier.com