Re-Cap 2002. The Georgia Coast Fishing Year in Review
By Richie Lott

Anyone who got on the water this year was lucky enough to catch a few fish as this was a premier year for most saltwater species.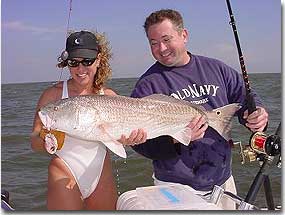 Inshore 2002: The Trout and Redfish bite has remained consistent over the past few months, and should continue to be strong. Reports of Trout over 3 pounds has become a regular occurrence when the moon and tides are at ease and the water clears up enough for a fish to find the bait.
Trout have been caught regularly on mirro-lures, grubs and live bait. I have heard reports from Savannah to Jacksonville on how good the Trout are biting in the rivers and also on many jetties and beachside areas where a creek runs in from the ocean.
Redfish have been biting incredible as well. Keeper size redfish are becoming a part of everyone's catch on the Georgia Coast right now. They are just about "anywhere you want them to be". Just keep reading and you'll see what I mean.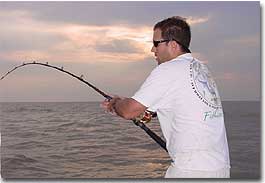 Master Mercury/Evinrude/Yamaha Technician Timmy Ellis of Hampton Point Marina and his fishing partner, Willie Fabie, boated over 35 keeper Trout and a limit of Redfish the first week of November. Tim said "Richie, it was the most incredible bite ever! The float would drift into the bite "zone" and it was GONE. Every time!"
Nearshore 2002: As I mentioned above, the Bull Reds were VERY cooperative this year. I myself had the best day of my career fishing only two anglers. Melissa Linton of Golden Isles Marina had the time of her life that late October morning on the full moon. We had 26 Bull reds by 10:30, and we were out of bait. We left the fish biting that morning! We'd had enough by then anyhow. All the guides who targeted Reds off the beaches did VERY WELL this season. If it gets any better, we'll be re-lining our reels every trip next year!
Earlier in the year, the Triple Tail were plentiful and willing to bite almost anything in front of their nose. I fished for them many times, and we always had good success. Capt. Greg Hildreth went on fishing for them well into Tarpon season to find that the fish stay around longer than most people think.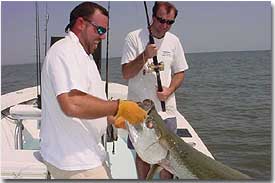 The Tarpon and Shark bite was simply incredible this summer. All the guides at Golden Isles Marina had no problem pleasing clients with big fish this season. Each trip out, we boated fish in the 100 pound class. We started fishing for Spinner Sharks until mid-summer, then we swapped things around a bit in late July and fished for Tarpon unless someone specifically requested shark fishing, which happens alot. It was a good year, no doubt. Plenty of Charter clients, and the Weather was beautiful most of the time.
We must contribute much of our success to the abundance of baitfish that congregated in the St. Simons and Sea Island area this season. Without bait (pogeys), it's TOUGH! There are still scattered bait schools all over the beaches and into the rivers, especially the Satilla entrance, Wolf Island and the "Grave Yard" area.
Offshore 2002: The late Winter months proved deadly for Sheepshead and Trigger fish on the nearshore reefs and wrecks. Capt. Greg Hildreth and I caught literally HUNDREDS within a short 8 week period.
Even further Offshore, the Red Snapper, Amberjack, King Mackerel and Pompano bit fantastic when the full moon was hiding. Capt. Matt Amie and I proved our point on many days in 120 ft. of water while bottom fishing with live bait. It was absolutely ridiculous on most occasions. If a bait hit the bottom, you had a keeper fish hooked up on most drops.
Right now, the King Mackerel are biting with a vengeance. CO member and fishing partner Stan Kane has nailed several nice Kings over the last few weeks fishing at "J" reef. In his latest email, he informed me of a 50 pound+ amberjack he caught as well. If we can get the weather and seas to cooperate, we'll be heading offshore to indulge in the action.
The Snapper and grouper should be heating up now as well. All we need is to get past this full moon, and you can bet your last sardine, you'll catch some nice bottom fish just about anywhere on the Georgia Coast! Remember, keep only what you can eat and take your kids fishing.
Authors Note: Our Charter Boats are fully equipped with state of the art Shakespeare and Pflueger Fishing Tackle. For any information on the rods, reels and fishing line we use for any of the species of fish listed in this article, please feel free to phone the Coastal Island Charter Fishing Office at Golden Isles Marina. 912-638-0241.
About the Author:
Capt. Richie Lott is owner of Coastal Island Charter Fishing and Georgia Coast Yacht Brokerage at Golden Isles Marina. With much rivalry, he has managed to form a group of Guides (7) to be soon named "The St. Simons Island Charter Fishing Association" in 2003 after the final structure is planned. Capt. Richie has been fishing the Georgia Coast for over 20 years.
Sponsors and Partners: Coastal Outdoors Magazine, Mercury Marine, Shakespeare Fishing Tackle, Pflueger Fishing Tackle, Berkley, Rebel, Cajun Lightning, and Pure Fishing. Please visit us on the web: www.charterfish.com