Go Shallow This Fall for Big Bass Action
By Bill Vanderford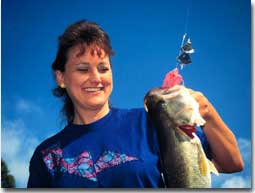 Now that the cooling process has begun, many anglers seem to be perplexed about catching big, shallow bass at Lake Lanier. Producing angling successes during the fall requires locating good quality water, hungry fish, and making plenty of casts.

In order to find these bass, the solution is to go directly to the nearest source, which is surface aeration from wind and waves. Windswept shorelines with fairly shallow cover are great places to find fish.

To catch bass, use lures that run horizontally rather than ones that must be worked vertically or on the bottom. Larger buzzbaits work extremely well on shallow bass in the fall. Because of their unique configuration, these lures are often confused with spinnerbaits, but their purpose is strictly as a topwater offering. Despite the fact that they sink when allowed to fall, the buzzbait features a windmilling blade that brings it to the surface quickly when retrieved, while churning the water with a steady noise. One should only crank the buzzbait as fast as necessary to keep it on the surface. Specific structures like blowndown trees, exposed stumps, bridge pilings, boat docks, or slightly exposed brush piles can be targeted with a buzzbait. Bass around these structures will hold very close, so one should fish slower and with less commotion. When casting near any isolated object, the lure should strike the water beyond the structure and be retrieved so that it passes as near as possible to the intended target.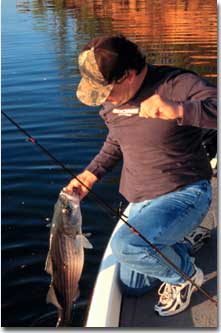 In low water and fast changing conditions, concentrations of fish are often found right on the bank in less than a foot of water. When the bass are found in these places, the action on a buzzbait can be fast and furious, but these occurrences are rare. Most big bass caught during the fall are a result of much casting and winding. In fact, if one has more than a dozen hits during a day of fishing, it has been a very successful day. On an average, at least half of the hits will be by largemouth or spotted bass over five pounds.
Huge striped bass are also moving into shallow water at this time of year to search for larger prey near the shorelines. These big linesided predators are quite vulnerable to longer minnow-type, jerkbaits pulled slowly near the surface. The most popular of these is a 7-inch, chrome/blue, Cordell Redfin, but any lure of this type that is 5 to 7 inches long will work.
The actual method of fishing these baits is relatively simple. A slow steady retrieve that causes a little "V" wake behind the lure works best In calm water. It is very important that the lure remains on the surface while wiggling its way back toward the boat. If the water is choppy, however, wind the reel a little faster so that the lure runs just below the surface.
When using artificial lures, most stripers are caught during periods of lower light, because stripers are sometimes repelled by strong light sources. Therefore, times near sunrise, sunset, or on overcast days is best. The lower intensity of light brings the stripers and their huge appetites into the shallows where they are easier to catch. While in shallow water, however, they tend to be very spooky. Too much noise will make them vacate an area in a hurry.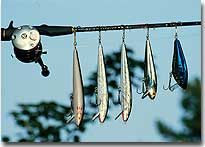 Trailing live bait behind one's boat on a flat line without any weight while casting with topwater lures is another way to catch an occasional striper. Normally store-bought shiners seem to work well, but blueback herring from the Dam Store are even better. Since the bait is usually being moved by the wind or an electric trolling motor, they should be hooked in the mouth or through the nostrils.
This year's receding waters will expose many excellent targets of opportunity and trigger a faster fall transition, but the kaleidoscope of colored leaves, the hungry bass, and the cooler weather make it a wonderful time to be out on the lake. So, don't let the changes or the shallower waters keep you from enjoying some of the most explosive topwater fishing of the year!
Bill Vanderford has won numerous awards for his writing and photography, and has been inducted into the National Freshwater Fishing Hall of Fame as a Legendary Guide. He is a regular contributor and can be reached at 770-962-1241, at [email protected], or at his web site: www.fishinglanier.com.