The Holy of Holiest, The Silver King
By Richie Lott

Tarpon are a highly migratory game fish. During a cold winter, they travel as far South as South America and make an Atlantic crossing back to Florida, and then North into Georgia, South Carolina and North Carolina as the water warms. There are parts of extreme South Florida that house Tarpon year round.

A great deal has been learned about these hard mouthed, scavenging brutes over the past few years. We have started learning incredible amounts of information about their feeding habits, migrating habits and most of all, how to locate these fish no matter if they're rolling and free jumping or not showing themselves in dirty or deep water.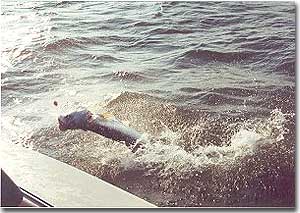 The brutal battle and acrobatic maneuvers of Tarpon draws new anglers to this sport each season as the word spreads amongst anglers and Charter Captains. It's action like no other when the bite is on as the angler attempts to set the hook into pure bone!
As scavengers, Tarpon can be one of the most finicky feeders in the Game Fish family. I've seen those fish turn their nose up at a live Menhaden while they explode in the chum slick behind the boat. One would think that if the fish are in the chum slick feeding, they're willing to eat your offering. Most times they are, but it can be disappointing and frustrating when you have 20 or 30 fish rolling behind the boat and you can't get a knock down.
"Prime Baits for Tarpon"
Depending on where you fish, you will want to coordinate your bait to the fishing and bait environment.
For example; in South Florida, the Gulf and the Keys, most anglers in these areas will use a giant shrimp, Pin fish, White Bait or crab while drifting inlets, bays, flats or channels where Tarpon are known to be holed up.
Capt. Greg Hildreth of St. Simons Island, Georgia has fished for Tarpon over 20 Years. He has fished several locations on the Gulf and Atlantic Coast. Hildreth says "If I'm fishing the West Coast of Florida, Crabs are an exceptional bait especially on and around the Full Moon tidal stages as the crabs funnel out of Charlotte Harbor into Boca Grande Pass. If I'm fishing on the Atlantic Coast, a DOA Bait Buster works magic when sight casting to rolling Tarpon in dirty water Estuaries, Bays and Sounds."
Georgia and South Carolina are not so fortunate to have the flats and clear water situations as south Florida offers. Most of these anglers target Tarpon with a large Menhaden in Channels, Sand bar cuts and open Sounds. A 6 –8 inch Mullet is a good bait choice in these areas as well.
"Effective Chumming in any Location"
The many myths about chumming for Tarpon are only part true from my personal experience of running over 100 charters each year targeting these fish. I have also found, the oilier your chum bait, the better off you will be in terms of successful Tarpon fishing.
For a long time I lived on the belief of chumming the entire time I was Tarpon Fishing. Now, I'm not saying an angler should just forget about a chum slick all together. However, do it in moderation instead of cutting up a hundred Menhaden or mullet every 30 minutes.
Too much chumming will have you fighting off Bluefish, Bar Jacks, Spanish and Sharks. On a Charter, when things are slow, that's great. When you're on the water to target Tarpon, that's not so great at all.
Depending on the bait situation when I arrive on a school, I typically fill a five-gallon bucket to the top with chum only baitfish, which will normally be Menhaden.
My mate will cut the fish three ways and cut the head in two so it won't float and bring in the Sea Gulls to tear up your flat line bait after they realize there are no floating morsels. Keep that in mind no matter what fish you chum for. Most fish heads will float unless it's a larger bait like a big Mullet.
When you arrive at a spot where you are watching fish roll or you simply know the fish are deep; set the lines out with no chumming to begin with. No need to call in the Gulls and the Sharks if you don't need to. If the Tarpon don't bite after 15 minutes or so, start a slow to moderate chum, but don't over do it. Just toss out a few of those cut pieces every couple of minutes as you watch the Rod tips. Give it an hour or so and then move on to another hole if they won't cooperate.
If the fish are rolling by your boat and they won't bite, this calls for heavy chumming. With a little luck, you'll have one in the air within a few minutes after a heavy slick is formed. But, as we all know, they are fish, and sometimes they just don't bite. Like any other fish, we don't want those fish to have to think too much!
"The tricky part: Locating Tarpon"
Aside from catching Tarpon at your favorite Marina under the cleaning table in Florida, Tarpon can be difficult to locate at times, especially if you're in an area that's not familiar stomping grounds for you. If you're anything like me, you don't ask for much help in unfamiliar waters, or for that matter, even locally in your hometown! First off, the water temperature in your fishing locale needs to be 75 degrees or more, and you are ahead of the game already.
With that much under your belt, head out to the nearest Sound or Bay and get a feel for the area in general. The mission here is to boat ride until you have located a bait school on the surface or your bottom machine. Look for Jack Crevalle to be feeding in the bait schools. The Jack Crevalle are tell tale signs of Tarpon in the area. These fish often run together balling up bait and crushing the surface, or they could be deep in the column marking at 35 ft. or more. When you mark the bait or spot surface activity in a bait school, send out a line and give it a try for a while as you drift with your engine(s) shut down and depth recorder off. Excess noise is a killer when you are attempting to locate and catch Tarpon.
Other prime areas are Inlets or Sounds where baitfish pour in on the flood tide out of deep water into shallows or over a submerged sandbar that forms a rip. Sharp sloping ledges in shallow or deep water may be holding bait and Tarpon, so watch the bottom machine closely as you idle outside the channel or inlet. Just like any fish, there has to be something to eat, or you normally won't find them.
In shallow Sounds and Bays where clear water is the norm, you may be able to spot tarpon rolling or simply roaming the flats in search of food. In fact, there is no doubt you will spot Tarpon in these areas if you are a patient angler.
Another key factor is tides. If there is one thing that's predictable about Tarpon, it's their movement with tidal flow. Tarpon move out with the ebb and in with the flood following bait in and out. Bait schools drift with the current and the fish aren't far behind.
Ebb tides will send you a little further offshore in search of Tarpon in most area's, especially on the northern sector of the south east coast in places such as Jacksonville, Fl, St. Simons Island, GA and into areas of South Carolina as well. In these locales, 7- ft. tidal stages are normal all year round.
Flood tides will send you looking for Tarpon closer to shore. These fish can be caught in river mouths as the flood tide rises. When the tide is affected by a new or full moon, you may even find Tarpon far up into small rivers and the back ends of sounds and bays, or even around docks and Marina's, especially in South Florida.
A major tip to keep in mind is to watch for Tarpon rolling. Don't ever pass up an area where you are watching the fish roll. Kill the engine when you get close and ease the anchor over the side and get busy. Don't leave that area if you are watching fish roll. If you leave fish to find fish, you may get left out and curse to yourself for leaving the area after other boats come in screaming about all the Tarpon they caught in that area.
"Anchor or Drift?"
Drifting and anchoring have both proven to be effective. The deciding factor for many Tarpon anglers, including myself, is bait availability and fish movement with the bait. When there are mass amounts of baitfish and Tarpon are feeding amongst them, cast your net and get that bait. Then, drop back two flat lines into the bait school and hold on! Chances are you'll never need to throw the anchor, especially if the bait is on the move. The Tarpon will be right with them until they are gorged with food, and you'll want to follow right along with them shutting down the engine(s) when you approach.
Anchoring and waiting for Tarpon to bite is honestly quite boring at times, but it too, will pay off. If you are watching a few fish here and there and the bait situation is nothing to brag about, go ahead and ease the anchor over and fish a while in that area and begin to moderate your chumming until the fish bite, or move on.
If the Tarpon roll on past you and there was no hook up, you may need to pull anchor and move in or out depending on which direction the tide is moving. Go find them again. Chances are, they haven't gone far from where you were anchored.
"Top or Bottom?"
To cover the water column effectively, be prepared to fish several different methods. On the anchor, an effective spread is two baits on the bottom, one cut bait and one live bait. In the other two rod holders, fish a flat line with no weight and live bait. Your final rig should have a 3/8 oz. weight on the leader to get the bait down just a bit.
With the above set up, you have covered the column and your chances for a hook up are far better than fishing only one way. If fish are rolling and they won't take a shot at your flat line, add a float so the bait can't take it down at all and he'll be left fluttering in panic on the surface.
As you drift a bait school, the best technique is a flat line and a light weighted flat line as mentioned above. If you're marking bait in deep water, send those weighted rigs down to the marking and see what comes up.
"Tips on Tackle"
Catching small Tarpon in shallow water or on the flats (30-90 pounds) doesn't require much in the way of tackle. If the fish are consistently small, use Spinning Tackle with 20-pound line and a 60-pound leader. Small Tarpon Combo:
Ugly Stik Tiger Spinning Rod (#BWS 2201) 20-50
Shakespeare Intrepid Spinning Reel (#3870)
Fill the spool with 20-25 pound Berkley Big Game Mono
6 ft. of 60 lb. Vanish Fluorocarbon Leader
Mustad 7766 6/0 Tarpon Hook
Boating larger Tarpon (100-200 Pounds) requires a bit more backbone in your rod, and a reel with the capability of holding 300 Yards of 40-pound line, especially when fishing deep water for these fish.

All Around Tarpon Combo:
Ugly Stik Rod (#BWB 1120) 40-80
Casting Reel capable of holding 300 yards of 40 pound line
6 ft. of 150 lb. Fluorocarbon Leader
Mustad 7766 6/0 Tarpon Hook
Handling Tarpon for a Healthy Release
We have all seen the pictures of anglers holding Tarpon in their boats for that perfect photo. Research proves that after a grueling fight on rod and reel, these fish are on the borderline of death when they are landed with light tackle in warm waters.
Extreme care must be taken to prevent these fish from having an early death. First of all, don't drag a Tarpon in the boat for a picture. Put on your gloves and grab the inside of the bottom part of the mouth and hold him up for a very brief time out side the boat for a photo. Revive the fish for as long as it takes, as the oxygen levels are much lower when the water temperature reaches 80+ degrees in the summer.
Quiet is Key
When you locate Tarpon working an area or some of your buddies call you in on a good bite, be cautious in your approach and be prepared to shut down that powerhouse and the depth recorder. I've seen these fish spook when a boat idled in too close. They will leave the area and find their food elsewhere if they spook.
If you toss the anchor, do it as quietly as possible. If the fish are extremely skittish, the anchor chain sliding on the rub rail will send them running.
Fish em' down and tight!
Fishing for Tarpon with your reels in gear boasts more solid hook ups than free spooling. Tighten your drag until you're pulling 14 pounds on the scale. It'll pay off come hook up time! If you're using a lighter rod and reel combo, pull your drag to 10 pounds to avoid a break off on the initial run.
Use an extremely powerful "sideswiping" hook set toward the water after the fish makes the first jump. This too, will help you sink the hook into that bony mouth. Don't plan on setting the hook while that fish is in the air, or you will be on the deck to avoid a 6/0 Tarpon hook as it comes flying across the t-top of your boat. Be sure the fish is down after that first jump and then put the steel in em'.