The Altamaha River has become 'Big Cats Den'
By Bill Vanderford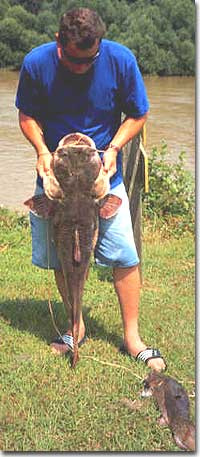 Though its bewhiskered countenance is not one of the most beautiful sights, the catfish is certainly one of the most prolific and largest of fishes in Georgian waters. Despite its homely appearance, "Old Whiskers" is an excellent adversary on a rod and reel, and very tasty when fried golden-brown in a hot cast iron skillet. Nevertheless, according to the Georgia Wildlife Resources Division, too few anglers in our state are taking advantage of the great numbers of big catfish that abound in the Peach State.

The Altamaha River has become known as one of the premier flathead catfish rivers in the southeast. Although flathead catfish or "Appaloosa's" are thriving in the river, fishing pressure remains low. On an average day trip, one can land 10 to 20 catfish that average 3 to 25 pounds, and 30 to 50 pound flatheads are not uncommon.

The better fishing for these huge cats occurs in deep holes located along the channel side of the river. An electronic sonar unit is useful in locating these places, but almost any local tackle store can tell you where to find the flatheads.

When using sporting tackle, a minimum of 30 pound test line is recommended because of the large size the flatheads attain and the abundant snags in the river. Live baits are the most popular way to attract these huge catfish. Some favorites are are large worms (Louisiana pinks), shiners, and bream.

Set lines or limb lines are also a popular and effective way to harvest the big flatheads. Since flatheads are more active at night and depth is not critical, most anglers fish limb lines overnight using hand-sized bream.

Though flatheads are prevalent throughout the river, the river near Jesup, Georgia, which is in Wayne County, is usually the best. The Wayne County area also boasts three of the best Wildlife Management Areas (WMA's) in our state (Little Satilla, Rayonier, and Sansavilla) for hunting trophy deer, wild hogs, and other small game.

Jaycees Landing near Jesup, Georgia has a good boat ramp and everything needed for a successful fishing or hunting trip. Home of Altamaha River Expeditions, it offers hunting and fishing guide service, canoe and kayak rentals, camping, on-river housing rentals, and license sales. They can be contacted at (912) 427-6570, (912) 588-9222, or at their web site: www.altamahariverexpeditions.com

The Jesup area also offers numerous historical sites and many unique eateries. Special needs and excellent information are always available from the friendly folks at the Jesup-Wayne County Tourism Board by calling toll-free (888) 224-5983.