Texas Tuna Fishing


One of the most popular tuna caught in Texas, the blackfin tuna which is the smaller cousin of the yellow fin tuna, are caught off of private charter boats. In addition to blackfin, yellowfin tuna are also possible on any trip where you find blackfin.The current world record blackfin is about 40 pounds, and most fish caught in Texas water will average from 15 to 30 pounds. Our biggest yellowfin tuna has been approximately 85 pounds.

Blackfin tuna usually run in large schools and can be easily located early in the morning under large flocks of birds. If you apply patience more often than not a single bird can give way to an entire school of tuna roaming just beneath the surface. If you can't locate them just underneath feeding birds, don't worry blackfin tuna can be caught in various depths ranging from 70 to 150 feet by trolling or drifting with live baits. Although the blackfin tuna is smaller in size than it's larger cousin, don't let their size fool you. Blackfin tuna have very streamlined bodies, are extremely strong, and are known to be amazingly stubborn fish. The Blackfin tuna lacks an air bladder like those possessed by other fish such as grouper so both blackfin and yellowfin tuna can literally fight from any depth with ease.

Tuna can usually and often overpower inferior tackle as well as out of shape anglers trying to fight them to the surface. It's no wonder why it can be an exhausting yet exillerating challenge when landing a tuna.A novice tuna angler will make sure to take note of a blackfin's characteristics as this fish is known to be shy toward boats. Once a school of tuna is located, extra effort must be taken to circling the school several times to make the right presentation.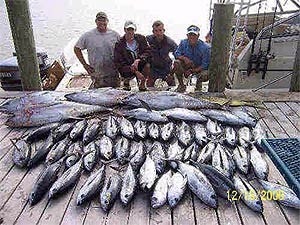 One must be patient to experiment with various baits as well as trolling speeds in order to entice the tuna to answer the dinner bell.On private charter boats, most blackfin are caught around distant oil platforms The most popular blackfin bait in Texas waters is the Diamond Jig, a heavy hunk of lead that doesn't look like much more than a fancy sinker. Still, Diamond Jigs are time-tested and proven weapons for fooling finicky blackfins. Ballyhoo, cigar minnows and ribbonfish are also good baits.If you hook a big one (20 pounds and up), hang on for dear life and watch your line peel off of the reel. Blackfin Tuna always head for the bottom creating an instant intense and tiring battle. It can be said that fishing for Blackfin tuna on the Texas coast is fun and exhillarating.
So for the out-of-shape anglers who want to hunt for Texas tuna; well, it's time to hit the gym.