Dan Kiazyk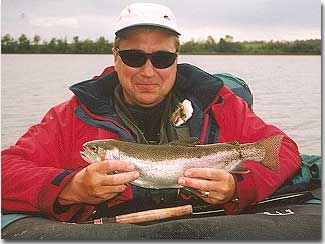 I grew up north of Winnipeg (between Selkirk and Winnipeg) and spent an inordinate amount of time on the Red river --- yup even skipped school!. I married a gal who's father grew up and had family (Albertson) until only recently in Pine Falls -- hence my connection with the Winnipeg river
My childhood buds and I took a keen interest to fishing. As a younger fellow, I was particularly interested in the Manitoba Master angler program, earning "Grand Master angler" designation (I have caught 24 different Master angler species) and a "specialist" designation in 14 different species (five master anglers of the same species). But those where the exploits of my youth eh! Now, however, I look forward to the reward of seeing a client battle a big fish. Last year I had a client that personally caught 14 master angler cats in one outing. Needless to say.... he was ecstatic!
I guide on the weekends during the school year and throughout the summer holidays. I am particularly interested in rounding out my angling acumen with a broad knowledge of different species and the lakes, rivers, reservoirs and ponds where they can be caught. I do specialize a bit but I really like to catch any fish that likes to bite! My hope is that by having this wide range of experiences and by continuing to learn I might be a better guide for my clients! Too many guides tout themselves as "know-it-alls" or the "best-on-the river" but I prefer to remain a "seasoned fishing student" of sorts.
Lately I've caught the hunting bug... (varmints, white tail as well as ducks and geese). I may be getting into that part of the outfitting business in the next 5 years or so. As a hobby I write about my experiences while fishing. My articles have been published on various web sites across the internet and of course on my own site as well. I enjoy the feed back they generate (from clients and the general public).
To find out more about Dan Kiazyk, his fishing style, or charter services, visit his website at http://www.geocities.com/dkiazyk2000/ or drop him an email at dkiazyk2000@yahoo.ca