Steve Huber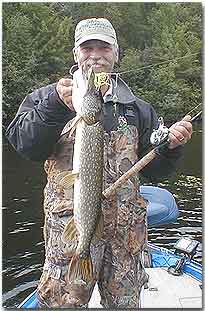 Steve Huber is co-owner of G & S Guide Service in Rhinelander, Wisconsin. G & S is one of the few services in the area that "specialize" in multi-species angling. They'll custom-tailor a fishing trip to meet your specifications and skill level.

Steve has been an avid angler for over 35 years, guiding for the past 8 years. Fishing from a 2000 ProCraft SuperPro 190, equipped with a 175 h.p. Mercury outboard and PinPoint electronics/trolling motor, Steve is a firm believer in quality products for his clients.

Using either Shimano or Ambassaduer reels, coupled with custom built rods, G & S clients will be supplied with top-notch equipment, as well as the hottest in lures and livebait for the species desired.

Steve is on the SecretWeapon Spinnerbait pro-staff, as well as Mesa Tackle Co. and has been field testing fishing and other outdoor products for years.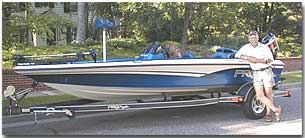 Steve is active and well respected on many newsgroups/message boards on the internet and because of this activity, recently hosted a successful Bass Tournament, drawing anglers from as far away as Texas and Georgia.
Steve has been writing articles for several other websites, as well as having been published in a couple outdoor magazines. He recently finished filming an upcoming episode of "Fishing the Midwest with Bob Jensen".
To find out more about Steve and his guide service, visit his website at http://www.herefishyfishy.com or drop him an email at [email protected]