Video One Views: 1,436
Current Video Rating: 2.80 with 5 rates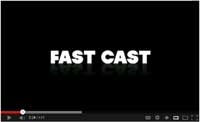 Click above image to view video player

Sebile Fast Cast
Stocked item, average ship time: same/next business day

The body of the Fast Cast is designed with a thick tail, wide belly, thin back and a compressed head creating the best aerodynamic design. It also features a full wire design incorporated to maximize strength. Used as a vertical jig the Fast Cast offers a dual purpose depending on how the line is attached to the lure. If tied to the nose, it permits a fast retrieve swim action.  If tied to the tail and hook is switched to the nose, then the bait will spiral and wobble at the same time to create more flash on the drop. The Fast Cast is 2" in length and weight a 1/2 oz.

Sale Pricing Notes: Select discontinued models on sale for 20% off. Available while supplies last.
Shipping: This product's sale items do not qualify towards the $50.00 free shipping offer.

Change quantities to order, then click the "add to cart" button below