Video One Views: 1,540
Current Video Rating: 0.00 with 0 rates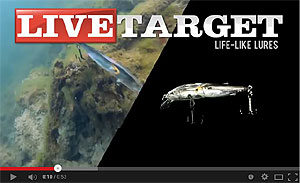 Click above image to view video player

Koppers Live Target Glass Minnow Baitball Jerkbait
Stocked item, average ship time: same/next business day

The new LIVETARGET Glass Minnow Baitball Jerkbait is built on the foundation of Mother Nature's own balance of predatory feeding and baitfish survival. Imitating a cluster of minnows separated from the main school, this suspending jerkbait has a weight transfer system designed to cast long distances and an incredible erratic action. Let the feeding frenzy begin!

110S 4.25" long, 1/2 oz, Dives 4-5'
120S 4.75" long, 5/8 oz, Dives 5'

Sale Pricing Notes: Select discontinued models on sale for 20% off. Available while supplies last.
Shipping: This product's sale items do not qualify towards the $50.00 free shipping offer.

Change quantities to order, then click the "add to cart" button below