Video One Views: 2,811
Current Video Rating: 6.60 with 10 rates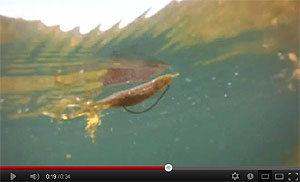 Click above image to view video player

Evolve Mad Mouse
Stocked item, average ship time: same/next business day
Finally, EVOLVE introduces a perfectly realistic weedless buzz mouse. Featuring a keel shaped belly and upturned nose, the Mad Mouse swims the surface just like the helpless rodent it mimics. Complete with kicking feet and a living tail, the Mad Mouse will draw attention when they've seen everything else. 4 per pack.

Sale Pricing Notes: Select discontinued models on sale for 20% off. Available while supplies last.
Shipping: This product's sale items do not qualify towards the $50.00 free shipping offer.

Change quantities to order, then click the "add to cart" button below