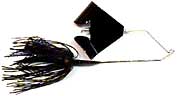 One of the best buzzbaits available in the market today! Available in 1/8 oz, 1/4 oz, 3/8 oz and 1/2 oz size. These buzzbaits will catch you fish. Give them a try.

Sale Pricing Notes: Select discontinued models on sale for 20% off. Available while supplies last.
Shipping: This product's sale items do not qualify towards the $50.00 free shipping offer.