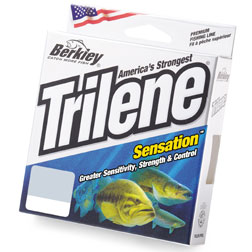 Rebate Available For This Product
Until now, manageability in a low stretch, small diameter, super-strong line was only a dream. But Berkley made it real, with an ultra-sensitive, ultra-strong line that's remarkably abrasion resistant, yet a pleasure to handle and cast. A breakthrough techology called Complex Polymer Alloy makes this extraordinary line possible. New Trilene Sensation gives you total control over your presentation from cast to hookset. You can detect light bites. Small baits cast easier. Crankbaits go deeper. And spinnerbaits run truer. Available in clear, low-vis green, photochromic or solar collector. Spool up today and experience the sensation for yourself!

Enlarge Photo
Please note: Not all models may be on sale. Only the discontinued items are on sale.