Summertime Flats Fishing....


Summer is almost here on the Indian River in Southeast Florida. The water is warming up and so are the fish. It's time to fish the flats for redfish, snook, trout and a lot of other saltwater species. I love this time of year out there on the water. It a wonderful place to watch the sun peek over the mangroves at first light. There isn't a better place to enjoy the quiet and solitude of the morning.

Flats fishing comes alive in late spring and into the summer months. Early morning fishing is at its best out there in a couple feet of water. The bait pods have come full strength into the river by now and so have all the bigger fish chasing them. There is action all over the river by now. This is the perfect time of year to target redfish on the flats.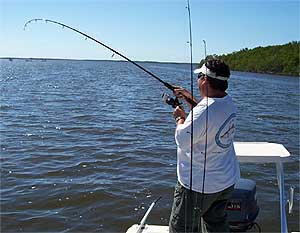 First thing to remember when fishing the shallow waters is QUIET. These fish are in less than a foot of water in a lot of cases and will run at the least noise out of the ordinary. Keeping in stealth mode is number one of things to keep in mind at all times. I have had many redfish swim right under the boat when they are not scared by sudden noises or movements. Get all your preparations ready well before you start up on the flats. By all means, don't motor up onto the flats. I only use trolling motors when necessary and use a push pole most of the time. It makes less noise in the water and you can get into places that a trolling motor can't take you. Use the current and winds to your advantage whenever possible.
Work the flats slowly. There might be reds laying in less than a foot of water and you lose all your chances by working up too fast as you watch that redfish torpedo away from your boat. No matter what the conditions are, you learn to read the water as you go. Baitfish moving or redfish tailing can tell you where to cast or keep the boat away from. I cast around any movement in the water. I have been known to pole the boat backwards to keep well away from movement and maximize the chances of a hookup. Reds are known to swim along with mullet and other baitfish. Always cast past any movement and work your bait to it. Many redfish have bolted off the flats just after a lure slaps them on the head.
Top water is fantastic in the first light of the day. Just about every fish that haunts the flats will bash a top water. I tend to work them a little slower in shallow water. A redfish's mouth faces the bottom and they sometimes have trouble trying to slap a top water and miss it a lot of times. I slow the lure down when I get a miss and twitch it slower to get another hit. I've had reds follow it all the way to the boat hitting it over and over again. Vary your retrieves if you aren't getting any action. Sometimes an erratic, thrashing retrieve works better, so don't be afraid to try something different. For my success, I have always had the best luck with red/white combinations of top water colors. Zara Spooks, Chug Bugs or Mirrolures all work great out there. Use a loop knot for tying on your artificials to get the best action out of them. I love top water fishing!
My go-to-lure has always been a gold spoon. Something about them that a redfish, and many others, can't resist. That splash of gold moving across the flats is hard to beat. I work them as slowly as possible and really slow it down if it comes near any movement around it. Redfish usually are working the bottom for dinner and might miss your lure altogether if you are reeling it in too fast above their head. Vary your retrievals to see what works for you. When I find them tailing, I normally will switch to a spoon to get it down and dirty along the bottom for them to see. It's a redfish favorite!
Soft baits are great as the morning wears on. DOA shrimp or CAL lures are great choices on the flats for a variety of fish. Again, work them slow and easy. Root beer, white and gold are good colors to start with. If one color isn't working, change it out. There are a rainbow of color choices so ask your neighborhood tackle store what is working in your area. Never be afraid to try something different. Cotee makes a root beer grub with a gold tail that has been very productive on reds. A light jig head - 1/16th ounce- will keep it from sinking too fast into the grass. Use these under the mangroves as the day gets hotter for snook and redfish.
So now that summer has arrived. Check all your gear and get ready for some great fishing on the flats. Get out there……keep the noise down……read the water…..and above all….HAVE FUN!
Name: Captain Charlie Conner
Email: captaincharlie@fishtalescharter.com
Website: http://www.fishtalescharter.com