North Carolina - Lake Norman Produces New State Record Blue Catfish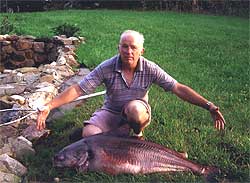 RALEIGH, N.C. (June 30) – Joel Lineberger of Long Island, N.C., broke the state record for blue catfish when he hauled in an 85-pound monster from Lake Norman on June 19. The new record holder measured 51.25 inches in length and 35.5 inches in girth. Lineberger enticed the blue catfish to strike a white perch fished on a bottom rig and hauled it in with a Penn baitcasting reel mounted on a 7-foot Shakespeare Ugly Stick.

The N.C. Wildlife Resources Commission on June 24 confirmed Lineberger's blue catfish as a new state record, besting by two pounds the previous record blue catfish reeled in by Concord angler Andy Richmond from Badin Lake in May 2003. The largest blue catfish on record weighed 116.12 pounds and was caught in the Mississippi River in Arkansas, according to the International Game Fish Association.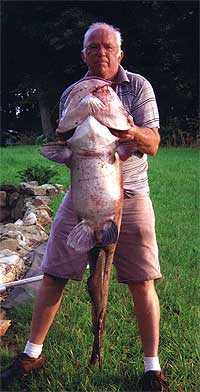 Lineberger didn't have to travel far to catch his state record blue catfish. Fishing with his brother Ronnie above the N.C. 150 bridge, Lineberger said he and his brother were within sight of his lakeside house when the big blue cat struck.
The record fish was certified by fisheries biologist Bob Brown, who has seen his share of large blue cats while working on Lake Norman.
"I've seen 25-pounders in gill nets when we were helping a graduate student do research on Norman," Brown said. "I knew there were some blue catfish at least that big in the lake, but that fish that Mr. Lineberger caught is the biggest blue cat that I've ever seen."
To qualify for a state record, an angler must have caught the fish on a hook and line, must have the fish weighed on a certified scale witnessed by one observer, have the fish positively identified by a qualified expert from the Wildlife Commission and submit an application with a full, side-view photo of the fish.