Venom Line Tabs
Stocked item, average ship time: same/next business day

New For This Year
The Venom Lures Line Tabs come packaged 4 sheets per pack with 48 tabs per sheet. These make it easier to keep all your reels organized without forgetting what kind of line and what pound test is on each reel. These are printed on weather resistant virgin vinyl. They are smudge proof and UV resistant as well. There is a sheet of tabs for Monofilament, Co-Polymer, Fluorocarbon and Braided line. Each pack comes with a total of 192 peelable tabs.

Line Types and Weights:

Monofilament - 4lb. to 25lb.
Co-Polymer - 4lb. to 20lb.
Fluorocarbon - 4lb. to 25lb.
Braid - 10lb. to 80lb.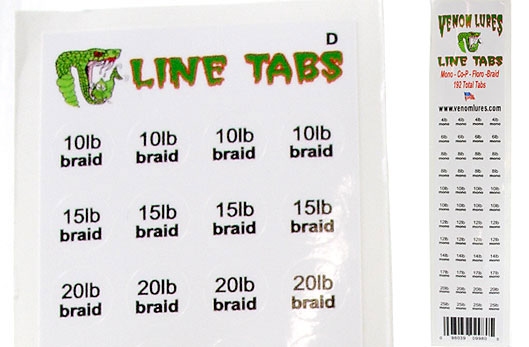 Change quantities to order, then click the "add to cart" button below