Video One Views: 1,463
Current Video Rating: 0.00 with 0 rates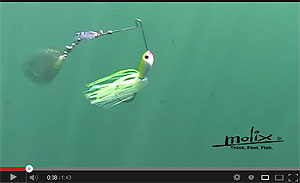 Click above image to view video player

Molix Water Slash Spinnerbait
Stocked item, average ship time: same/next business day

The Molix Water Slash Spinnerbait is the first Tungsten-Titanium spinnerbait by Molix. It has been designed with a new assembling concept that uses a special wire-head connection. The T-Slash guarantees a high security level with enhanced capability power.

The special Titanium-Nickel wire used on this help amplify the vibrations that are produced by the blades. This make this spinnerbait particularly effective on finicky fish and in high pressured waters. The special design of the head made with Tungsten, is studied to guarantee maximum performances with a perfect lure balance. The new special colors combined with the "fine cut" silicon skirt made the T-Slash much more similar to the forage fish.

Size:

Weight - 3/8 oz
Blades - Double Willow

Sale Pricing Notes: Select discontinued models on sale for 20% off. Available while supplies last.
Shipping: This product's sale items do not qualify towards the $50.00 free shipping offer.
Change quantities to order, then click the "add to cart" button below