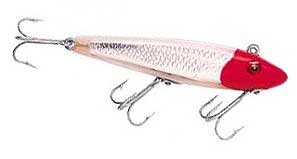 The MirrOlure® Classic 52M Series has been producing trophy fish for decades. Their life-like appearance, "built-in" flash and 3-D fiery red eyes are irresistable to all game fish.

Length: 3 5/8"
Weight: 1/2 oz.
Hooks: 3
Depth: 3-8' +
Sink Rate: 1 ft/sec

Slow sinker which darts from side to side while emitting a sonic fish calling sound.

Enlarge Photo
Sale Pricing Notes: Select discontinued models on sale for 20% off. Available while supplies last.
Shipping: This product's sale items do not qualify towards the $50.00 free shipping offer.