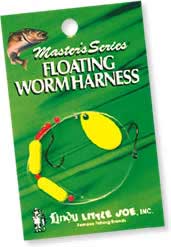 The Floating Worm Harness offers a neutral buoyancy presentation, keeping your crawler off the bottom and up in the strike zone. High visibility floats and the finest components make this the ultimate in crawler harnesses. 1 per card

Sale Pricing Notes: Select discontinued models on sale for 20% off. Available while supplies last.
Shipping: This product's sale items do not qualify towards the $50.00 free shipping offer.