Video One Views: 1,786
Current Video Rating: 10.00 with 1 rate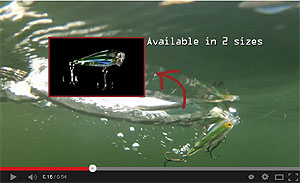 Click above image to view video player

Koppers Live Target Glass Minnow Baitball Popper
Stocked item, average ship time: same/next business day

Predators busting baitfish on the surface will find it hard to resist the new LIVETARGET Glass Minnow Baitball Popper. It is deal for when game fish are keying in on tiny minnows under the surface. Pop-it, spit-it or walk-it, it creates a commotion that calls in fish from a distance like a dinner bell. There's nothing like a top water bite!

GFP65T Length - 2.5", Weight - 1/4 oz
GFP75T Length - 3", Weight - 3/8 oz

Sale Pricing Notes: Select discontinued models on sale for 20% off. Available while supplies last.
Shipping: This product's sale items do not qualify towards the $50.00 free shipping offer.

Change quantities to order, then click the "add to cart" button below