Video One Views: 1,498
Current Video Rating: 5.00 with 1 rate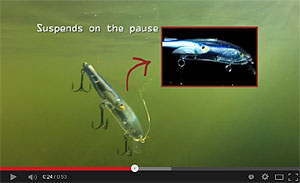 Click above image to view video player

Koppers Live Target Emerald Shiner Baitball Jerkbait
Stocked item, average ship time: same/next business day

The new LIVETARGET Emerald Shiner Baitball is ideal for situations in which predators are targeting smaller forage. This erratic swimming jerkbait mimics several adult Shiners isolated from the sanctuary of their baitball. Designed to cast long distances and suspend at mid water temperatures, this jerkbait will fool even the weariest Bass. Twitch, Twitch, pause... fish on!

Sizes:

EBB90S

Length - 3 1/2"
Weight - 5/16 oz
Depth - 3' to 4'

EBB115S

Length - 4 1/2"
Weight - 5/8 oz
Depth - 3' to 4'

Sale Pricing Notes: Select discontinued models on sale for 20% off. Available while supplies last.
Shipping: This product's sale items do not qualify towards the $50.00 free shipping offer.
Change quantities to order, then click the "add to cart" button below