Daiichi Copperhead Hook
Stocked item, average ship time: same/next business day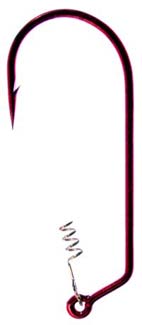 CopperHead™ hook,Bleeding Bait Red. The special bend at the front allows more hook to penetrate plastics than 'Xtra Wide Gap" hooks. (The best choice for toads, frogs and jerkbaits).

2/0-3/0 - 5 per pack.
4/0-5/0 - 4 per pack.

Sale Pricing Notes: Select discontinued models on sale for 20% off. Available while supplies last.
Shipping: This product's sale items do not qualify towards the $50.00 free shipping offer.
Change quantities to order, then click the "add to cart" button below