Blue Fox Classic Vibrax UV Bright Spinners
Stocked item, average ship time: same/next business day

UV Bright finish reflects more energy strengthening the lure's visibility. Blue Fox's UV finishes are a unique combination of Fluorescent paints, reflective surfaces and optical brighteners that make the lures more brilliant in any visible light. They have proven to be very effective for all species in situations where fish are feeding by sight.

Main Body

Machined brass
Silver plated with UV Bright top coat

Brass Gear

Rattles when rubbing against the bell
Free turning

Shaft

Stainless steel

Blade Finishes

Painted and printed patterns with UV Bright top coat

VMC Hook


Extremely sharp for quick penetration
Perfectly tempered for strength

Sizes:

60-30- Blade Size: 3, Weight: 1/4 oz
60-40- Blade Size: 4, Weight: 3/8 oz
60-50- Blade Size: 5, Weight: 7/16 oz
60-60- Blade Size: 6, Weight: 5/8 oz

Sale Pricing Notes: Select discontinued models on sale for 20% off. Available while supplies last.
Shipping: This product's sale items do not qualify towards the $50.00 free shipping offer.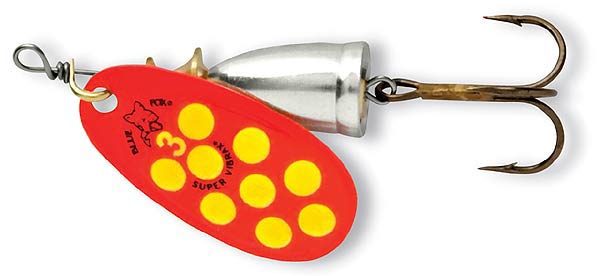 Change quantities to order, then click the "add to cart" button below